The Walt Disney Company's earnings report for its fiscal fourth quarter just went live, and things aren't looking so hot for the entertainment giant. Quarterly revenue came in at $12.8 billion, well under the expected $13.2 billion. Earnings-per-share were $1.12, which was right around analyst estimates.
Still, the stock is already nosediving in after-hours trading. It closed at $102.68 and is now at around $99.80.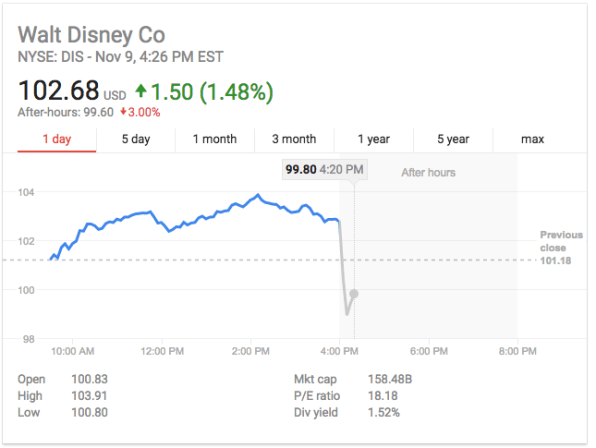 Disney's cable networks business took a big hit in the quarter, with operating income decreasing by $15 million compared to the same period last year, hitting $1.2 billion. Disney blamed its channel Freeform for the poor cable showings, which was "driven by lower advertising revenue primarily due to a decrease in average viewership."
There will surely be a lot to talk about during the earnings call. Stay tuned for our coverage of it, and check out the full earnings report here.