Late last year, Gucci began alleging that Forever 21 was infringing its trademark by copying the brand's signature "blue-red-blue" and "green-red-green" stripe webbing. Many companies have tried to stop Forever 21 from offering fast-fashion versions of their luxury items, but this time is different—Gucci might actually be winning.
According to Business of Fashion, when Gucci sent Forever 21 a cease-and-desist letter after the fast-fashion retailer was "inspired" by their stripes, Forever 21 went to court first seeking protection against the threats of trademark litigation. On Monday, a United States District Judge ruled in favor of Gucci, dismissing Forever 21's complaint against the luxury brand.  While Forever 21 has permission to refile, the court made it clear that they were "skeptical" of Forever 21's claims that Gucci's stripes were not protected.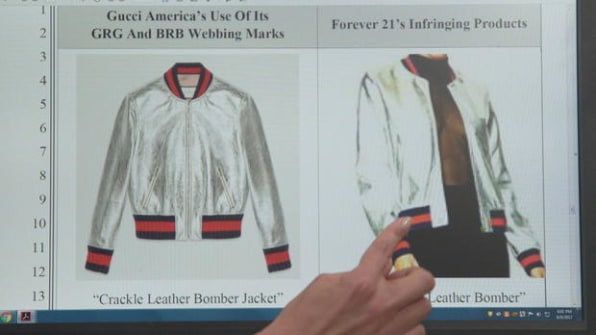 Forever 21 had argued that the stripes lacked secondary meaning (read: that people didn't associate the stripes with Gucci's brand) and were simply aesthetically functional and generic stripes. The court disagreed, much to Gucci's pleasure.  "This is an important step in Gucci's continuing commitment to the protection of its renowned and iconic intellectual property," a spokesperson said in a statement. "Gucci looks forward to enforcing its rights and prosecuting its trademark infringement, trademark dilution and unfair competition counterclaims against Forever 21."
The stripes-as-trademark argument is good news for Adidas, which filed a similar suit against Forever 21 over its own stripy trademark.