Microsoft is launching a product today to make  it easier to update your resume. Resume Assistant is  a new feature in Microsoft Word that will use LinkedIn data to help Office 365  subscribers choose words and phrases to describe their experience in a way that will catch recruiters' attention.
LinkedIn's director of product management for Careers, Kumaresh Pattabiraman, says he struggled to articulate how his experience as an engineer specializing in machine learning could translate into product management when he made his career switch. Like most people, Pattabiraman had to research others who had the desired experience to get ideas on how to best frame his own.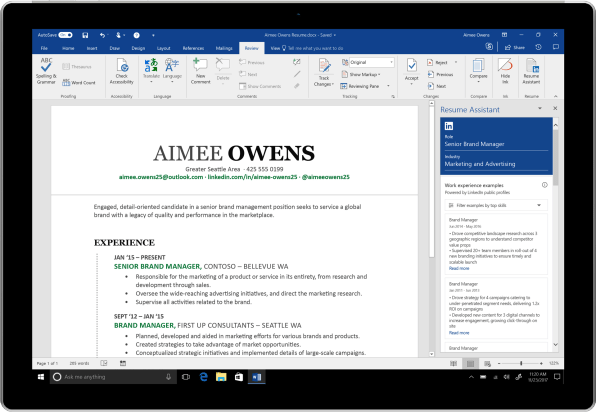 Now, he says, the artificial intelligence baked into Resume Assistant does that heavy lifting. Opening a resume document in Word will prompt the "Assistant" to open a window on the right side of the screen that asks what industry and role you would like to see. Anonymized LinkedIn descriptions will then pop up for inspiration. You can search by skill as well, so you can see how others have highlighted certain skills for particular roles or what the top skills are for particular jobs.
The Assistant will also ask if you need "professional help" and connect you to a pool of professional resume writers who've registered with LinkedIn's ProFinder freelance network so you can get a quote for their services. It will also ask if you want to let recruiters know that you're looking for job opportunities through LinkedIn's Open Candidates program.
The service is currently only for Office 365  subscribers as part of the Office Insiders program but Microsoft is planning to roll it out more broadly in next calendar year.