Is Snapchat's parent company steadily ceding ground to Instagram? Let's look at the stock after today's Q3 earnings report: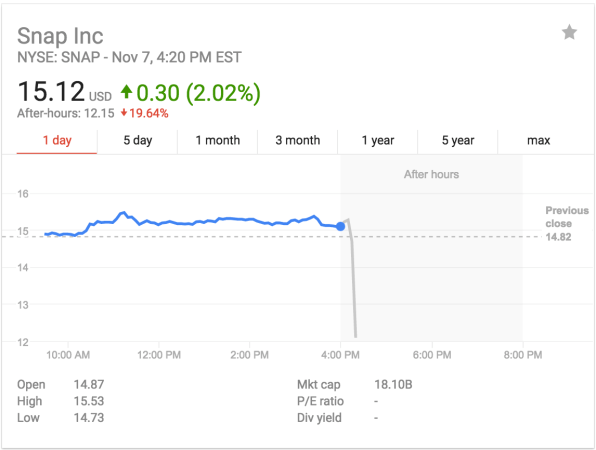 I think it's safe to say yes. Snap added only 4.5 million new daily active users this quarter, reporting a total of 178 million daily users—nearly 4 million less than estimates. No wonder Snap's stock is down by more than 20% in after-hours trading.
In his prepared remarks for Snap's earnings call, CEO Evan Spiegel noted that Snap's user base grew "at a lower rate than we would have liked," adding that its user growth was much higher in September than in the previous two months.
Snap's Q3 revenue of $207.9 million also fell short of analyst estimates, by about $30 million, in part because Snap wrote off almost $39.9 million to account for excess inventory of Spectacles. The company reported a net loss of $443.2 million for the quarter.
None of that is exactly surprising. Wall Street has softened its expectations since Snap's IPO this March, slashing revenue estimates month after month.