Walk past the enclosed single-person metal pods lining the  entrance to Bulletproof Labs, the new health and fitness center from Bulletproof founder Dave Asprey, and the first thing you'll likely notice is the group of people, seated in leather lounge chairs, quietly flipping through magazines while receiving IV nutrient infusion drips.
For $50, an in-house clinic nurse administers various IVs to treat for a number of issues, including gut health and immune boosters, but also for hangovers, PMS, and to enhance "glamour."
Further in, the open space looks like if Christopher Nolan redesigned an Equinox. In lieu of treadmills or free weights, over a dozen contraptions–resembling complicated workout machines but with headsets, data trackers, and oxygen masks–await the adventurous. These aren't exactly for exercise in the traditional sense, they're the latest in technology to "cheat" workouts, i.e., spend less time sweating and expect the same (or better) results.
There's the "atmospheric cell trainer," which reportedly "massages cells from the inside out," an employee tells me. The machine resembles Superman's pod, but in place of hope for humanity lies rapid changes in temperature and altitude to balance out stressors, whatever that means.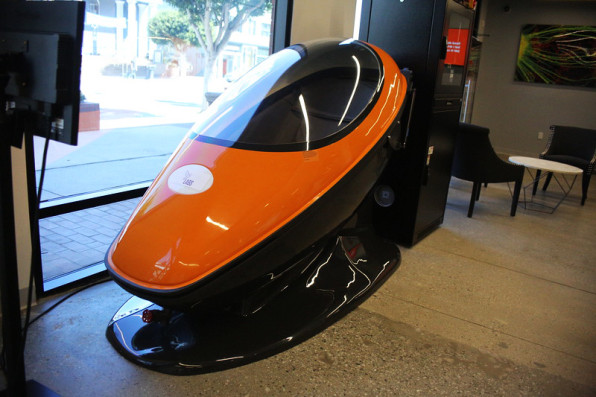 Further in, a virtual float tank requires one to fully lie down in a tanning bed of sorts while wearing goggles and a headset. Once settled in (it's a rather cozy mattress), you close your eyes while psychedelic lights beam through the headset. It's meant to "overload the senses" in an effort to reach a theta brain state, but it honestly feels like a relaxing LSD trip, minus the debilitating terror.
There are far more of these curiously entertaining attractions, including a "bone trainer," which somehow puts force on one's bones, and an "oxygen trainer" that vacillates between positive and negative O2 to supposedly increase circulation. The "red charger," meanwhile, exposes your entire body to red and infrared LED light to decrease inflammation and "boost mitochondrial function." There's also an independent medical clinic on site, which provides those IV drips.
These are not just meant to satisfy clients with a penchant for the latest in head-scratching gizmos; all have been vetted and used by Asprey to condense and maximize one's workout time.  People move their body, but there isn't any excessive sweating or grunting on this "fitness" floor.
"You get more benefit in less time," claims Asprey,  who refers to his latest brick-and-mortar creation as a "human upgrade center." Bulletproof Labs opened in October right next door to the brand's other shop, Bulletproof Coffee, on a busy boulevard in Santa Monica.
Asprey previously spent a decade leading the Silicon Valley Health Institute, "a nonprofit antiaging group," where he reportedly had access to cutting-edge health techniques and technology. In 2013, he launched Bulletproof 360 after dedicating $1 million to build a personal biohacking center in his home, which he says helped him lose 100 pounds and lift his IQ by 20 points. Variations of his home technology are included in Labs.
"These are things that I want to be accessible to everyone," he explains, "it also lets people come in and see and feel–it helps to substantiate the brand."
Providing public access, Asprey tells me, is entirely what he had in mind when he created the term "biohacking," defined as the art and science of changing the environment around you and inside of you so that you have full control over your own biology. It's a cross-pollinated sphere that takes research from body building, biotech, anti-aging science, medicine, and nutrition.
But none of this comes cheap. Use of the facilities works on a pay-per-machine use, with memberships detailing the number of uses per month. A onetime use of a machine will set you back $50, whereas a monthly membership of 12 uses costs $510, nearly double the cost of an upscale L.A. gym. If you wanted to go every day, it would set you back over $1,400, but the idea, of course, it that you wouldn't go every day: "We've designed it to use the least possible time in order to get the most possible benefit," says Asprey. None of these machines takes more than 15 minutes.
Bulletproof Labs also features several meditation rooms and contraptions aimed at increasing focus or harnessing mental potential. The "brain room," for example, offers 30 minutes of relaxing music to jump-start creativity and "help you do what you do better," explains an employee. It scans both sides of your brain with sensors, then plays some chill sounds.
Each one of these machines is fully explained in person, with new members taken on a thorough tour on which machines best suit their needs. Bulletproof Labs' website also offers studies and scientific information on the technology's claims. Some, like the cryotherapy chambers, in which temperatures drop to 150 degrees below zero, have been plenty discussed in medical journals, with a strong portion of scientists failing to find strong enough evidence to support its practice.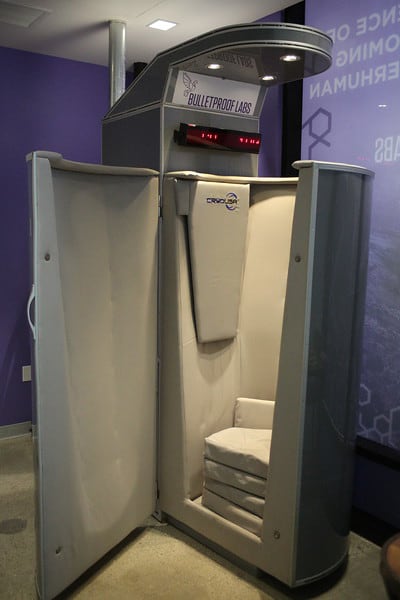 However, the majority of Labs' technology, like the "cold hit" high intensity machine, which combines compression and cooling technology, are so new that they haven't been studied very extensively.
While Asprey personally vouches for the machines he's assembled, it's hard to quantify their medical or scientific merits. In the past, some of his company's studies weren't found to be peer-reviewed or published in reputable journals. It's such gray areas that have propelled many to question the founder's qualifications, with some online fitness communities asking, "Is Dave Asprey legit or full of bro-science?"
Asprey doesn't envision the masses barely sweating to this cutting-edge technology, conceding that if people are happy with their traditional gyms, they should stick to them. He predicts interest from Bulletproof's legions of Silicon Valley fans, who have led the charge in the so-called biohacking movement. He says they could, for example, use the ARX, a motorized resistance machine that promises a week's worth of weight lifting in under 15 minutes.
"We're seeing lots of people who are busy and have demanding jobs," says Asprey. He says they hail from numerous industries including TV, film and music creatives, some CEOs, and a lot of folks who admit "I only had 20 minutes to dedicate to make myself better today." These are likely the same people who meditate, take supplements, and consider self-care an important initiative. And most of all, like many Bulletproof fans, they crave energy.
"These are people who want to look and feel great but don't want to spend all their time on it," stresses Asprey.
Bulletproof Labs, in the most concrete of ways, is Asprey's physical manifestation of his brand's mission statement: "to tap into the unlimited power of being human." He did it with butter-infused coffee, snack bars, a diet book, and bottled water, and it garnered him a dedicated legion of fans, not to mention business success (Bulletproof has sold 100 million cups of coffee and revenue grew by 37% in the last year).
The Making Of A Guru
In early November, Summit LA17, an ideas conference, held a meetup with Dave Asprey in a small backroom of the Intercontinental Hotel. Roughly a dozen chairs were set up, but over 100 people crowded in the room, standing on tippy-toes in an effort to catch a glimpse of the biohacking leader.
It was is as close as I've seen of guru status, save for Gwyneth Paltrow at the Goop conference. Attendees bombarded the founder with questions such as: What should I eat for breakfast? Can I have a glass of wine at dinner? Should I take ayahuasca? What sleep tracker do you use? The fandom was palpable.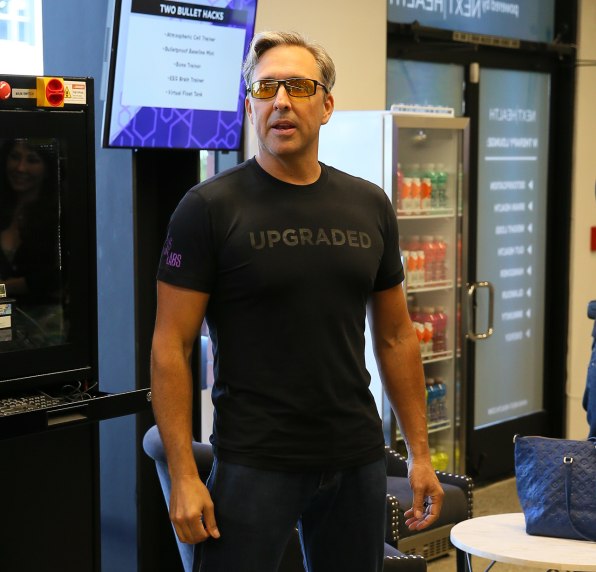 Asprey, a tall, elegant man dressed in leather alligator boots and a chambray shirt, handled such inquisitiveness with ease. As he cooly answered all inquiries, attendees quickly jotted down his answers or took to their phones to google the products. Attendees swapped their own biohacking techniques and shared the latest murmurs in scientific research. It was clear he succeeded in what he set out to do: build a community.
He has since leveraged the term to start a multi-million-dollar coffee brand, publish best-selling books, put on conferences, and launch a cafe chain.
Still, building a multi-million-dollar center for biohacking seems like a bit of gamble, considering the biohacking craze only came into its own a few years ago (although ideas like fasting have undoubtedly been around for centuries).
Asprey, however, in no ways sees it as fleeting fad: "If it's a trend, it's a trend that's been going on for thousands of years," he says. "We have since the beginning of recorded history spent huge amounts of time and energy on making our bodies work better, on not having pain in our joints all the time, and understanding the practices that make us better people."
And while biohacking has predominantly been associated with males, Asprey sees an uptick in women's interest, and imagines they too would hit up Labs. His most recent Bulletproof conference, for example, boasted 50% female attendance. In fact, he believes biohacking might be best served for the modern woman.
"My experience is that women are, on average, better biohackers than men because they have far more body awareness," says Asprey, adding, "women are under tremendous pressure from a career perspective and they are oftentimes even more constrained for time than men are."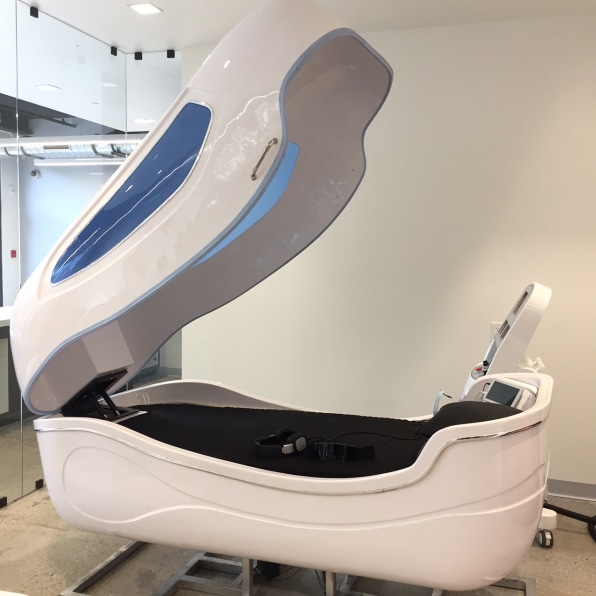 While Bulletproof has high hopes for Labs, executives are waiting to see how the pilot fares before committing to further expansion.
Bulletproof COO Anna Collins says the brand will analyze data before announcing future locations. Asprey already has his sights set on his next venture; "disrupting big food." Bulletproof already sells a medley of beverages and snacks,  but Asprey, ever a visionary, wants to shake up industrial food production. He did not offer further details, except to say, "I fundamentally believe that people will pay a little bit more for food that makes them feel good and perform better and look better… There's so much room to do it right."
Till then, Asprey says he's continuously fine-tuning Bulletproof Labs to ensure it maximizes members' time, and looking out for the latest in fitness and mental wellness technology. You might even spot him in Santa Monica, trying out machines that were once solely reserved to professional athletes. He hopes, with time, Bulletproof Labs can usher in a new era of health and fitness.
"We're helping people–we're empowering them by giving them control of their biology, so that they maybe might see their doctor less," says Asprey. Beside, he asks, "Do you want to go spend an hour on an exercise bike or do you want to spend 21 minutes doing cardio and feeling really good and not getting sweaty when you're done? We can do that."
As we finish our conversation, Asprey says something I find surprising: He's going to take a walk. I laugh, inquiring, "You still do stuff like that?" To which Asprey responds with an answer that best exemplifies his commitment to maximizing the most of movement: "Well, I was going to put on my antigravity boots first."