The Paradise Papers seem to have revealed that Apple found a new tax-free haven for much of its $250 billion overseas war chest on the island of Jersey in the English Channel. (Idea for new Apple-produced show: The Jersey Offshore.) This came after the Irish government cracked down in 2014 on multinationals like Apple using a popular Irish affiliate structure to put profits outside the reach of tax collectors from any country.
Now, the EU–which pressured Ireland to crack down–has taken a renewed interest in Apple's tax methods and apparently has been talking to the company about its new "Jersey" strategy. "We have taken an interest in getting to know how Apple is organized now," EU antitrust chief Margrethe Vestager said at the WebSummit tech conference in Lisbon on Tuesday. "We're asking for an update from Apple to get a feeling if it's in accordance with EU rules."
Vestager: "Way too early" to say if Commission will open (/reopen) investigation into Apple as a result of Paradise Papers #Websummit pic.twitter.com/BRC4g0nAmr

— Adrian Weckler (@adrianweckler) November 7, 2017
Apple responded to the revelations in the Paradise Papers by releasing a detailed statement on Monday. "The changes Apple made to its corporate structure in 2015 were specially designed to preserve its tax payments to the United States, not to reduce its taxes anywhere else," the statement says. "No operations or investments were moved from Ireland." It adds that Apple pays "billions" in taxes to the U.S. at the statutory 35% rate on investment income from its overseas cash.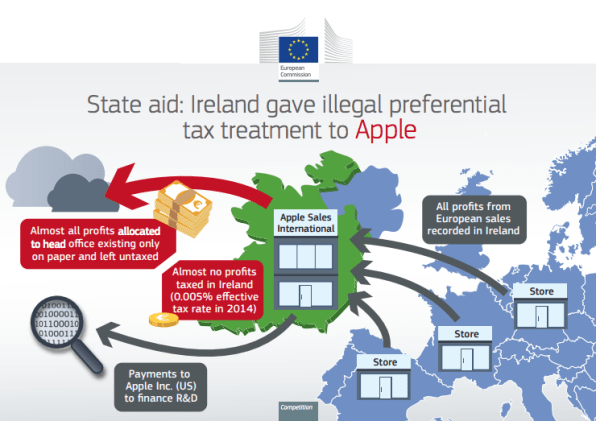 The company has about $268.9 billion in cash, according to its quarterly earnings report. About 94% of that, $252.3 billion, is held by overseas subsidiaries, while 63% of Apple's net sales come from foreign markets.
Apple has said that now is the time for the government to reform the tax code to dramatically reduce that tax rate. The GOP and the Trump administration have proposed a plan to tax the income at just 20%. The proposal is likely to also include a "worldwide minimum tax" on multinational corporations' profits, the New York Times reported, to prevent multinational companies from hiding profits overseas to avoid paying taxes. But this would serve as a stopgap until a "territorial" taxation approach—in which only profits earned in the U.S. would be taxed—could be phased in.