When Janete Perez first moved from Seattle to San Francisco six years ago, she realized just how hard it was to make friends. The former Microsoft program manager had landed a job with Zynga in the Bay Area, but even with an office full of digitally connected coworkers, Perez recalls the challenge of forming a new social group in person.
"We are very much connected digitally to people we already know," she contends, "But it's hard to make new friends with existing services," says Perez, whether it's around career networking or learning a new hobby, or finding volunteer opportunities and other ways to give back to the community. Existing social platforms weren't fostering meaningful conversations, she contends, instead of focusing on sharing and likes.
Perez eventually found her footing, but the issue popped up again when another faraway friend moved to the Bay Area and was looking to start a fitness group. Perez, who was working at Facebook on its Messenger app, started to consider building a platform that would facilitate the creation of long-term relationships that bridged the real world and the virtual one.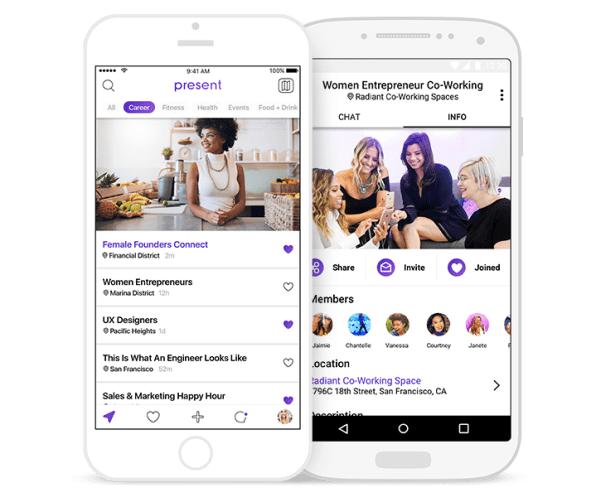 The result is Present, an app that launches out of beta today. Perez says experience helping people connect while she worked on Messenger revealed just how huge an opportunity there was for connecting. But connections on social media often leave people feeling lonelier than ever. A survey of 1,787 U.S. adults ages 19 to 32 from researchers at the University of Pittsburgh found that those who reported spending more than two hours a day on social channels were twice as likely to feel isolated than those who spent less than half an hour on them.
---
Related: Bumble's CEO Takes Aim At LinkedIn
---
Perez wondered exactly how someone goes from being a stranger to creating a new friend. Part of the solution she and her cofounder Bob Lee (the former CTO of Square) landed on is proximity. Perez says they really wanted to leverage general location to enable people to discover new friends without sacrificing their privacy. This, she maintains, "is a really differentiated way of connecting." Dating and networking apps like Tinder and Bumble don't offer specific locations but do show a person's proximity in miles to a potential connection. Present only shows how close a circle or an event is to the user. This, says Perez, "creates trust with our users."
Another thing that sets Present apart is that it's exclusively for women. Perez contends that now, more than ever, it's important for women to be in supported, positive environments "and really learn from each other." She points out that Present's beta testers have reported a high level of intention to give back and support one another. That support ranges from learning which local businesses are women-owned to which nonprofits and community organizations are aligned with their interests.
Of course, there are also circles for women to meet up for exercise, eating out, foreign language conversation practice, and other social pursuits, as well as more career-focused groups for entrepreneurs, underrepresented minorities in tech, etc.
The way it works is straightforward. Download the app (currently on iOS and web, Android is in beta) for free and verify your profile through Facebook. When I signed in, I could also see what women in circles based on my interests were already discussing by reading the circles' chat history. You can also connect directly with someone by sending them a private message.
The startup has raised a round of seed funding (the amount was not disclosed) and Present's team has grown to nine full-time people, most of whom are women. Although membership is currently limited to the Bay Area's denizens, Perez says they'll be expanding into other cities soon, but didn't give a specific timeline, nor did she share the current number of users. The idea, says Perez, is to make it so anyone in a larger community can join so that people can meet others who aren't in their immediate social graph. "As we grow, you'll be able to hop into another city and see what issues women are talking about there," says Perez, who was inspired by her recent attendance at the Women's Convention in Detroit as well as the Women's March this past January. However, there are no plans to extend memberships to men.
---
Related: How To Make New Friends As An Adult
---
Of having a male cofounder, Perez enthuses that Bob Lee is an ally and the father of two daughters who are both approaching the age of using social media independently. Does he feel strange to be building a network that he can't be a part of? Lee points out that his mom was a feminist, newspaper editor, and activist and instilled in him a passion to empower women. At Square, Lee says, he helped build a product that enabled women to accept credit cards and start their own businesses where they weren't previously able due to biases in existing systems. "I prioritized recruiting women engineers and helped start Code Camp, Square's program for female high school and college students," he says. "Today, I'm setting an example and building a brighter future for my daughters through Present."
Perez underscores the need to create "a really positive space for women." She, like many other tech founders, believes this networking app has the power to change the world one powerful (real life) connection at a time. "How do we help share information at the local level?" she muses, "What is happening in your community?" Given news out of Washington, Russian hacking, the rising tide of harassment allegations, and other issues that prompt outrage but not much in the way of activism, Perez sees the app as a way to really make grassroots change. "How can you be more Present? she quips, "It's all about the here and now."