The International Consortium of Investigative Journalists (ICIJ) has been poring over the newly released Paradise Papers, and finds correspondence suggesting Apple was looking for new ways to put its money outside the reach of tax collectors in 2014. The company has since accumulated a $252 billion mountain of offshore cash.
Specifically, the "papers" contain emails from Apple's law firm Baker McKenzie to another firm called Appleby, a 119-year-old company that specializes in setting up and administering offshore tax haven companies. The emails show Baker McKenzie asking Appleby questions like: "Confirm that an Irish company can conduct management activities . . . without being subject to taxation in your jurisdiction" and "Are there any developments suggesting that the law may change in an unfavorable way in the foreseeable future?"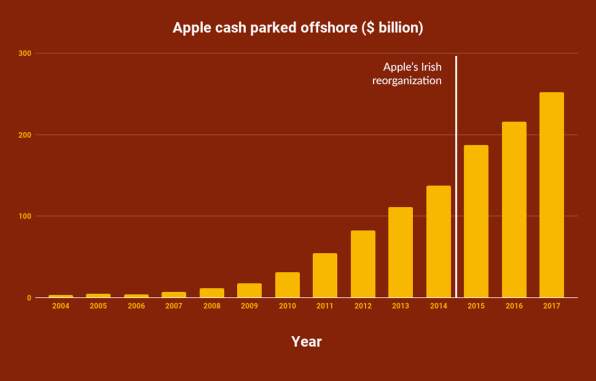 At the time lawmakers in Ireland (where Apple currently keeps almost all of its money) were cracking down on multinationals operating Irish subsidiaries for tax purposes, including Google, Facebook, LinkedIn, other tech companies and drugmakers like Abbott Laboratories. Apple was looking for a new offshore destination for cash it then held in its Irish subsidiaries. The company eventually found a new home for its money in a small island in the English Channel called Jersey.
The Paradise Papers—more than 13.4 million documents obtained by reporters from the German newspaper Süddeutsche Zeitung and the International Consortium of Investigative Journalists—originate from Appleby and a group of offshore tax haven registries, and contain information about the tax havens of 120 of the world's political elite.
In another cache of documents, The New York Times found that two of Russia's most powerful state-controlled entities, with close ties to president Vladimir Putin, invested hundreds of millions of dollars in Facebook and Twitter through Yuri Milner, a prominent Russian tech investor.