One of the features that supports Apple's "from the future" claim about the new iPhone X is the Face ID facial-recognition technology the phone uses to authenticate users. But problems manufacturing the laser system that enables that feature have put a big bottleneck in Apple's ability to produce enough of the devices to satisfy consumer demand around the world.
In the run-up to Friday's launch, numerous analysts thought holiday shoppers would either not be able to get an iPhone X, or would have to wait many weeks after ordering one to finally take delivery. The waiting game is real, but it's not as long as many feared. And Apple is estimating faster shipping times than it did immediately after the preorders began late last month.
---
Related: The iPhone X: Hands-On Answers To 10 Burning Questions
---
The Out-Of-Stock Blues
Strolling into an Apple Store and coming out with a phone will not be easy, at least at first. The iPhone X went on sale in stores last Friday, November 3. Analyst Gene Munster at Loup Ventures reported that by Saturday afternoon "a handful" of silver 64GB iPhone Xs were available at Apple stores in the U.S. for same-day pickup.
But by Sunday evening, he said, "all 139 of the 271 Apple Stores in the U.S. we checked were sold out," adding that he expected the X to be in "tight supply" for the next four to eight weeks.
Online pre-orders for the X began the week before–one minute into October 27 Pacific Time to be exact. But reports say that even those who stayed up late (or got up early) to get their order in had only a narrow window of time to guarantee an in-store pickup of their new device on launch day, November 3.
My colleague Harry McCracken was one of those night-owl upgraders, but he says that the online order process was glitchy. So that when he finally got his order completed in the early afternoon on the 27th, the wait time had already extended to five to six weeks. Some of the glitches he encountered, it's worth noting, may have been related to the order system's integration with McCracken's carrier (AT&T) and/or the bank that finances phones for Apple's iPhone upgrade program.
However, McCracken subsequently placed another order last weekend, and encountered a shorter three-to-four week wait time. This suggests that either demand for the phones is slacking or supply of the phones is improving. (Pro tip: It's the latter.)
Loup Ventures' Munster said the one-week improvement in wait times came a bit sooner than he had expected. While some analysts Fast Company spoke with back in September believed the delivery delays could go on for as much as six months, Munster says he expects supply of the iPhone X will catch up with demand sometime in January.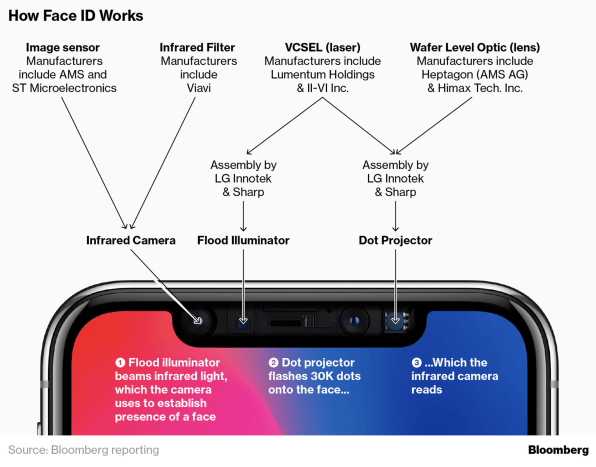 Mitigating The Wait
How do we explain all this? The speculation about supply problems with the X turned out to be true, but there's also strong evidence that Apple is going to great lengths to address the issue.
Our supply chain sources say that the challenges of the Face ID facial recognition system are indeed the cause of the supply shortfall. It's important to understand, however, that that system comprises a number of component parts from multiple suppliers, with Apple acting as system integrator to bring it all together in a way that works and can be manufactured in very high numbers without a lot of hand-holding at the assembly line.
The problem with the Face ID system came at the point where all the lasers, sensors, and software were assembled into one working system, our sources say. It was not the fault of any one supplier, but rather the relatively low number of assembled laser systems that were able to pass the quality assurance tests after coming off the assembly line.
Too many of the assembled systems were returning facial-recognition false negatives in the tests. Had those systems been put in phones, they would have denied the a legitimate user entry to the device at an unacceptably high rate.
Some believe that in order to get an acceptable number of "passes" in the QA testing, Apple dialed down the original acceptable accuracy level of Face ID. Apple vehemently denies this claim.
It's also possible that Apple found a second assembly facility to help in the production of the laser systems. With more laser systems being produced, more would pass muster in QA, the theory goes.
Nobody outside Apple knows for sure. What is fairly certain is that the company saw this problem months ago when it first began smaller production runs of the iPhone X. The company very likely sent teams of engineers to Asia to work on the problem with engineers at the assembly facility. They are probably still there.
The shrinking lead time on deliveries of the phones ordered online suggests that Apple and its assembly partner or partners are making progress on rolling out higher proportions of working facial recognition systems.
The stakes are pretty high. Apple is already taking a fairly big risk replacing a phone authentication system that has worked well for years–Touch ID–with a totally new kind of security system that reads faces rather than fingerprints. In order for users to forget about thumbprinting their way into their phones, Face ID just has to work smoothly and accurately.