At Apple's WWDC conference back in June, the company announced that it was giving Apple Pay a person-to-person payment option akin to Venmo and functionality built into Facebook Messenger and Snapchat. Apple Pay Cash turned out not to be ready to ship when iOS 11 did in September. But it's enabled in a public betas of an iOS update, which is arriving today to enable the feature for the iPhone, iPad, and Apple Watch, and is due in final form by the end of the year.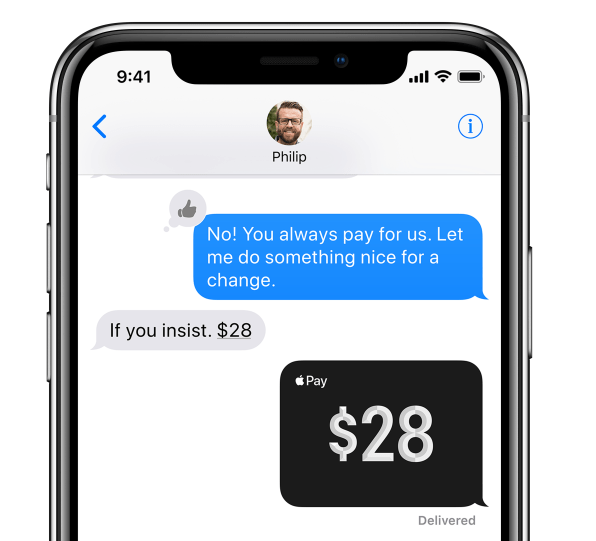 Rather than building a standalone experience, Apple is incorporating person-to-person payments into Messages (where you can tap mentions of dollar amounts to initiate a transaction), Siri, and the Contacts app. You can pay using a debit card associated with your Apple Pay account for free, or a credit card with a 3% surcharge. Payments you receive go into a virtual Apple Pay Cash debit card, which means that you need to be an Apple Pay user to get paid; you can spend funds through Apple Pay transactions or transfer them to your bank account. Everything's secured using the same technology as with conventional Apple Pay transactions: Face ID on the iPhone X and Touch ID on other iPhones going back to the 6.
Overall, Apple Pay has made lots of progress since its 2014 debut: Apple's Jennifer Bailey, who runs the service, told me that it's now accepted at 50% of U.S. retail outlets, up from 3% at launch, and accounts for 90% of mobile payments. "We said our goal was to replace the wallet," she added. And even if most people aren't ready to completely dispense with plastic (that's actually plastic) and cash, Apple Pay Cash is another necessary step in Apple's wallet-killing plan.