Bret Taylor is convinced that people spend way too much time copying data between documents.
As the founder and CEO of Quip–the collaborative document editor that Salesforce acquired for $750 million last year–Taylor talks to a lot of companies about how they get things done. One thing he's realized is that teams still have trouble accessing all kinds of up-to-date information in a single place. Hence the habit of constantly shuffling data around between apps.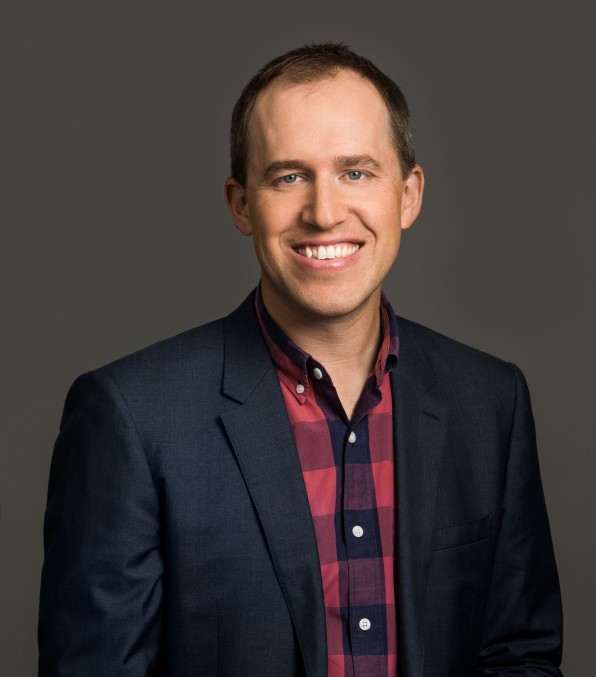 "If you go into a modern workplace, the number of people copying and pasting numbers from Excel into a PowerPoint slide, or taking a screenshot of a graph in some dashboard and putting it inside of an email … it is becoming somewhat ubiquitous," Taylor says.
Although Quip launched in 2013 as a simpler alternative to Microsoft Office, it's gradually turned into a digital whiteboard where teams can create freeform documents out of text, images, spreadsheets, and checklists. Now, Quip is expanding that idea with a platform for other types of information, such as calendars, kanban boards, drawings, and analytics dashboards.
Quip refers to these new formats as "Live Apps," and they'll come from both Quip itself and from third-parties. New Relic, for instance, will allow its dashboards to appear inside of Quip documents, and Draw.io will let users embed their flowcharts. The hope is that with additional sources of data, teams will spend more time working directly inside Quip's website and apps, and less time copying and pasting into static documents and emails.
"We really love that idea that Quip is no longer existing in a silo, but really adds collaboration to all the services your company already uses," Taylor says.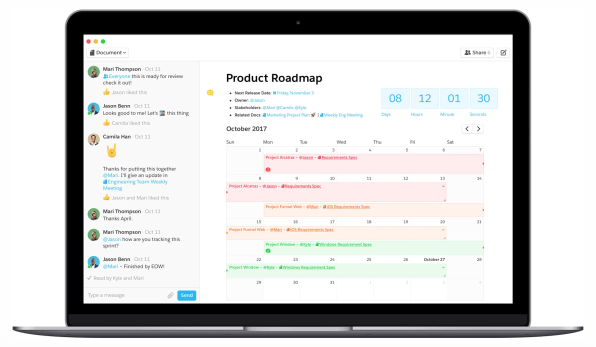 The notion that people are wasting too much time shuffling data around isn't easy to quantify, but Taylor can at least show that old-school collaboration methods are slowing people down. Teams that work in Quip, he says, complete projects 37% faster on average than other teams at the same company. They also send 43% fewer emails and hold 38% fewer meetings.
"I think one of the reasons the things we reduce,  like meetings and email, is because people know when they check a Quip document that it's always up to date," he says. "There's sort of a social culture around Quip, an incentive to keep it up to date."
With Live Apps, Taylor is hoping to make teams even more efficient. And while Quip has only tested the new feature internally at Salesforce so far, there's already some evidence that the new tools are working.
"Already these Live Apps are more popular than any other feature of Quip," he says. "There are more kanban boards and calendars than there are checklists and spreadsheets now at Salesforce."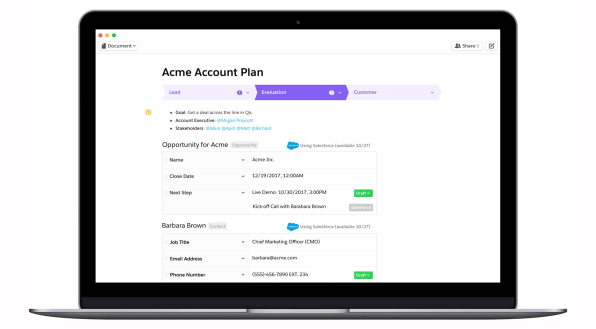 Yes, Another Platform
Quip is hardly the first collaboration tool to tack on an apps platform. The popular team chat service Slack, for instance, launched third-party chatbots in 2015, and the project management tool Trello added a third-party "Power-Ups" platform last year. Google Docs, Sheets, and Slides also offer an array of document-enhancing add-ons from third parties.
The biggest difference with Quip is in the free-flowing nature of its documents. While you might use a Slack bot or a Trello Power-Up to accomplish a specific task, such as tracking support requests or polling the team, Quip lets teams mash different types of data together into custom workflows. For example, a product launch plan might have a countdown timer appear on top of a kanban board, with a live graph of traffic to the launch site underneath.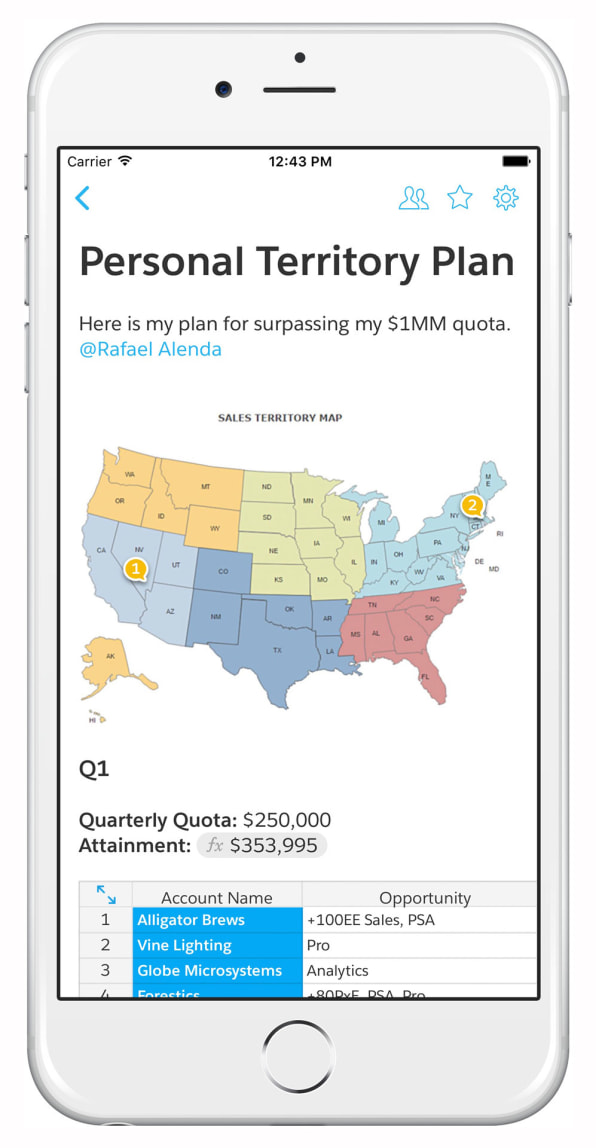 "What's really distinct about this is just how multi-dimensional and visual it is," Taylor says. "It's not a bot posting to a chat room. It's truly embedding the service itself."
Quip is also less dependent on internet connectivity, with offline support built into Live Apps automatically. The software will just use whatever data was available when the user was last online, and then synchronize the changes when the connection is restored. (In case of an editing conflict, Taylor says, Quip can resolve things on its own about 90% of the time, and will never synchronize destructive changes to the document.)
The new Live Apps might even have some utility for individual users, of which Taylor says Quip has "millions." Although teams have become the focus for Quip–they're the ones paying to use the product–Taylor still sees personal use as a "discovery mechanism." (He often jokes that it's the best wedding planner and shopping list tool on the market, and his family has been using the new calendar to track vacations and kids' sporting events.)
"We think if people use it for personal use, and at home, that they'll bring it into work, and to date that's generally been true," he says." It's been something we're really committed to and remain committed to."
The push to bring all project data into one living document does has some limits for now. Although developers can tap into Quip's rich text-editing tools and social features (such as comments and mentions), Live Apps can't interact with one another–at least not yet. That means you can't, for instance, draw directly on top of an analytics chart.
"We have a bunch of building blocks that are shared between these things so that they look and feel consistent," Taylor says, "but right now they are existing in their own little segments of the page."
In other words, you might still need to do some copying and pasting on occasion.