As companies like Uber, Lyft, and Airbnb have set up in cities, they've often been greeted favorably by many consumers but run into issues with city officials. Even in the more startup-friendly environment of the United States, the companies have faced regulatory obstacles, particularly around public safety and labor rights. Uber and Lyft were banned in Austin, for instance, before they appealed to state legislators and got their businesses reinstated. Airbnb is under heavy restrictions in New York City, though many hundreds of rentals are still available.
City officials seem to have a mixed attitude to the sharing economy, according to a new survey by the National League of Cities. More than half (55%) say they have a "very good" or "good" relationship with Uber, Lyft, and Airbnb. But a third of respondents describe their relationship as "very poor" while another 7% use the word "tenuous"–hardly a ringing endorsement.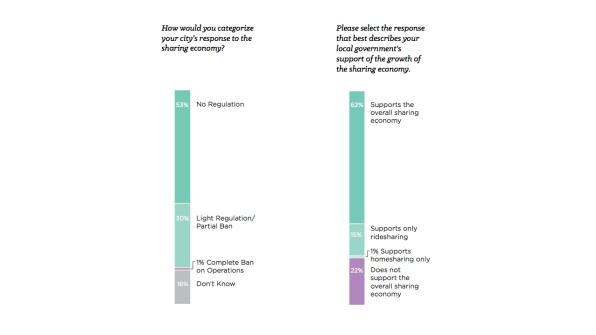 "The sharing economy has become ubiquitous in markets of all sizes. Most communities have acted to regulate or control the new services," says Brooks Rainwater, research director at the NLC and one of the authors of the report. "We've seen a solidification of support on the one hand, but also a solidification on the negative side too."
The latest survey, based on responses from about 250 cities across the country, follows a similar poll two years ago. That report found 61% of cities cited concerns over public safety. At the time, Uber was already facing controversy over the behavior of some of its self-contracting drivers.
Rainwater says cities are interested in pursuing partnerships with the companies, particularly to fill gaps in transit coverage. Places like Altamonte Springs, in Florida, have subsidized Uber trips. Others such as Atlanta, Los Angeles, and Minneapolis have integrated ride-hailing into their official transit apps.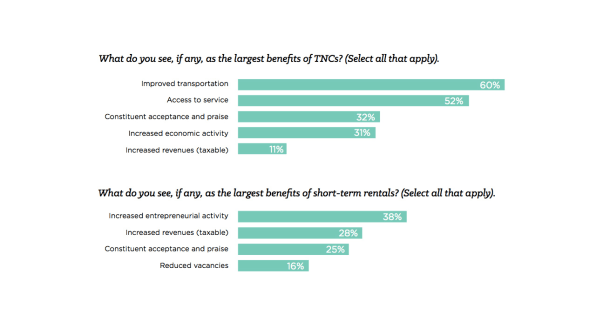 "It's exciting because ride-hailing can really serve this last mile-first mile challenge that so many cities have," Rainwater says in an interview. "Being able to create those linkages with subway stations or bus stops means people have more opportunities to get around."
Only 16% of cities say they've formed partnerships with the ride-hailing services so far. But 79% say they're open to the possibility, the survey shows.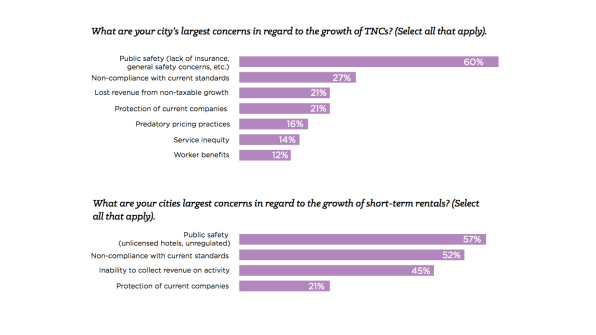 The report says the sharing economy has the potential both to alleviate and exacerbate inequality levels in cities. Ride-hailing can improve transport equity, for instance, but, without regulation, it can also simply replicate the patterns of taxicabs that traditionally served some urban areas but avoided others.
All cities would like the sharing giants to share more data, Rainwater says. This would allow officials to see how communities are functioning and where public and private services currently overlap or could be better integrated. Uber's Movement platform provides data on 2 billion trips around the world and is a step in the right direction. But Rainwater notes that it isn't real time and it doesn't give city managers a comprehensive picture of what happening at a street-by-street level.
Cities and the sharing economy still seem to be feeling each other out, working out whether they should cooperate or be wary. "On the one hand, the platforms can say it's their business model and why should they share data. But, on the other hand, they're in cities and cities need to make the sharing economy work," Rainwater says.