The respondents (both men and women of different ages) included employees and company leaders who were polled about the problems that women face in the workplace and what they thought of  39 corrective gender diversity measures for companies.
All women and men under 40 ranked work-life balance measures such as flexible work as the top priority. Millennial men also ranked parental leave and on-site childcare as high priorities (also aligning with women) while older men ranked leadership transparency and commitment highest.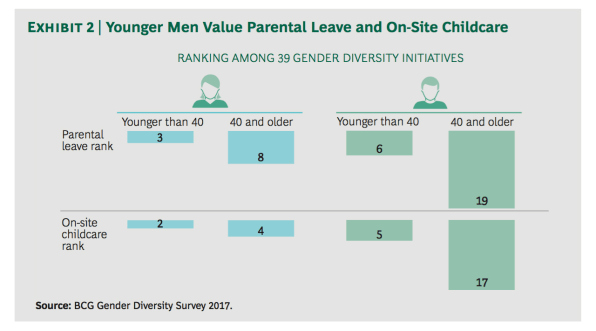 The report's authors found that millennial men were more willing to support flexible work measures by changing schedules for routine meetings, redistributing work across a team, and tracking performance on the basis of outcomes rather than hours worked–regardless of whether they were parents themselves.
The younger men also said they'd be open to hiring candidates from nontraditional recruiting pools and to undergo bias reduction training in order to improve gender diversity.
One of the reasons for this shift in attitude is that nearly half (46%) of millennials witnessed their mother returning to work before they were three years old, compared with only a quarter of baby boomers. Millennials also experienced more wage parity between their parents in the U.S., according to a previous study by Working Mother.