When it comes to wedding planning, there are lots of tools available online: digital registries, wedding websites, Pinterest for saving inspiring images, and of course, trusty old Google Docs for keeping your ducks in a row. The problem, for most couples, is that these tools don't tend to be integrated.
The Knot–a website that is two decades old and has helped couples plan 25 million weddings–is trying to change that with a new wedding planning platform that aims to integrate all of its current services into a single streamlined offering.
With this new platform, couples will start by answering a list of questions about what they would like their wedding to be like. They will then be invited to create a vision board that will provide a quick glimpse of the colors and aesthetics of their dream wedding. The platform will then provide a timeline and checklist that will help the couple tackle each stage of the process, including a minute-by-minute schedule of the wedding day itself.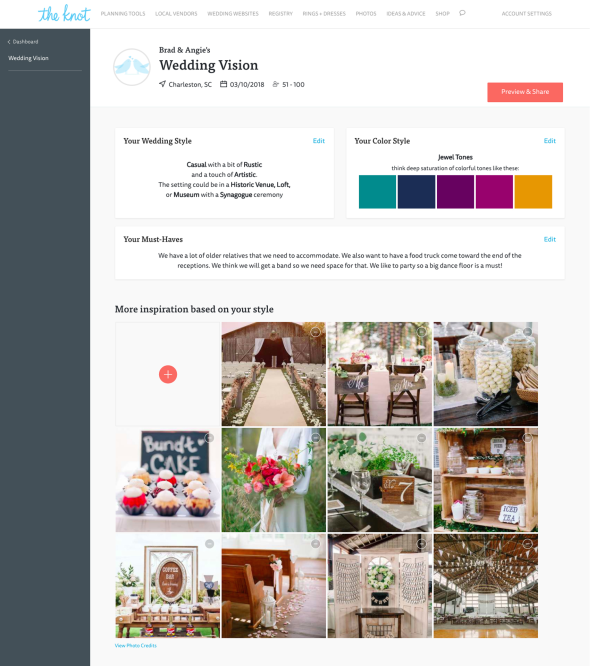 While there are other similar end-to-end wedding planning services, such as the one recently launched by the wedding registry platform Zola, The Knot's platform will incorporate vendor recommendations through every stage of the process. The Knot already has a database of hundreds of thousands of vendors.
Using the wedding-planning platform, couples will be prompted with vendors that are close to the wedding venue and specialize in the kind of event they are hoping to pull off. They can then send these vendors their inspiration board to give them a sense of their personal visions. RSVP and guest information can also be pulled directly from the couple's wedding website, if they choose to build it on The Knot, making it easier to communicate with guests.
"We spend a lot of time listening to users and gathering insights from them, " says Brent Tworetzky, EVP of product at the XO Group, which owns The Knot, among other media sites. "Our goal was to transform all of that data into useful tools that would help a couple through their wedding planning, so it is less stressful and more fun."