Once upon a time, this brave correspondent walked into an art gallery in SoHo, patted the paycheck burning a hole in his pocket, and inquired about buying a work of art. My tastes ranged from Klimt to Klee, Old Masters to Oldenburg, but I was curious about what I could get to decorate a peeling wall in my cold-water flat for less than $500. Before I could even blurt out a greeting, an attendant gazed me up and down, asked me who had sent me, and politely kicked me out.
Buying fine art used to be an incredibly intimidating experience reserved for the self-assured who had money and the right network of friends. That is, until a college student named Carter Cleveland went online in 2008 to look for a poster to decorate his dorm room. Frustrated that he couldn't find any site with all the world's art, he decided to build one himself.
Almost 10 years later, his company, Artsy, is probably the biggest online database of art in the world, with more than 800,000 works and 70,000 artists represented—and a mission to make the elitist world of art collecting accessible to everyone.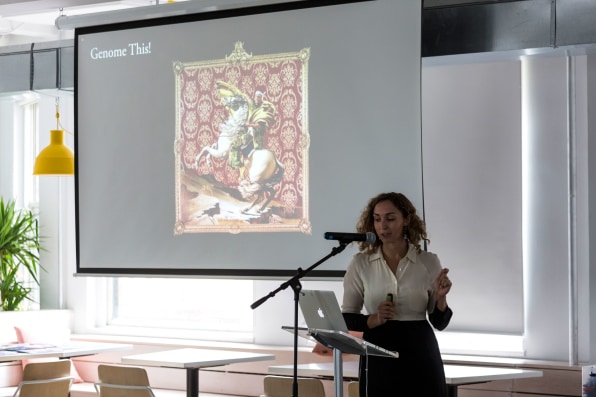 It's all powered by the Art Genome Project, a classification system that was inspired by Pandora's Music Genome Project.
"How do you make the world's art more accessible?" asked Matthew Israel, Artsy's curator at large, at the company's downtown NYC office during The Fast Company Innovation Festival. "You use art history and art knowledge to do that."
When the project began, there was very little metadata for cataloging artwork. But by assigning values from zero to 100 in all kinds of categories, from artistic discipline and medium to subject matter and style, the site was able to build a database and "genome" artworks.
To show how the system works—and to test the audience's art knowledge—Israel and Madeleine Boucher, content manager of the Art Genome Project, handed out a sheet featuring one of three works of art by Van Gogh, Dorothea Lange, and Kehinde Wiley. Participants were asked to genome the artwork and then given the correct answers. The results proved somewhat surprising, with some audience members wondering why a Lange photograph was graded a 100 for portrait but 0 for face (which is intended more for artworks that feature the face prominently).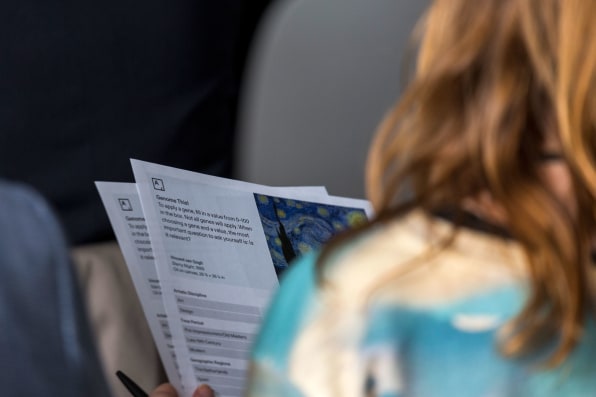 The project has transformed how people learn about art, allowing them to easily browse for works and understand their basic qualities, discover new artists, and dig deep for niche interests. Artsy is training computer models to help them tag more works to keep adding to the database.
By observing the intersection of art and market data, it "makes it possible to provide insights to our gallery partners about how the inventory is positioned in the marketplace," says Boucher.  Artsy has partnered with thousands of galleries who pay a monthly subscription fee to access its platform and connect with more collectors.
The art market is a $60 billion industry divided into two parts: the rarified world of billionaires and multimillionaires who buy Warhols at auction—and the rest of us, who spend much less on artwork.
Many in that less-glamorous tier used to approach art collecting "blindfolded in the dark," says Artsy president and COO Sebastian Cwilich. "It's not that revolutionary to say we'll do it differently through an online platform." By making art accessible, you take away some of the intimidating mystery of it all and enlarge their lives through the power of art. "How do you pull back the thread enough to create more buyers?"