It's like Sleep Number and Casper had a baby.
Kutson, the newest entrant in the booming bed-in-a-box market, distinguishes itself by allowing sleepers to customize the firmness of the mattress on their side of the bed. The foam mattress has a modular design that allows you to swap out layers to make them firmer or softer, based on your specifications. When the bed arrives, you can unzip the outer layer, then reconfigure the layers so that, for example, your side is firm and your partner's side is medium. I had a look at an early sample of the mattress, and it is, indeed, a relatively easy switching process, allowing a total of nine different combinations.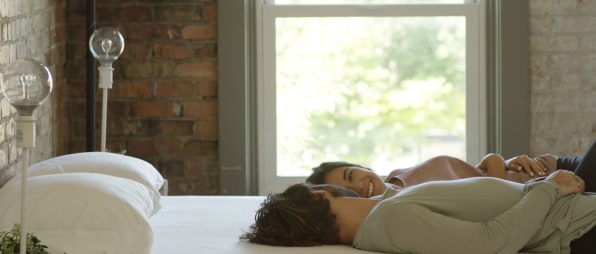 Many other mail order beds–including Casper, Tuft & Needle, and Leesa–offer only one or two mattresses, based on the assumption that most people have the same needs when it comes to mattress firmness. However, there are some couples who have very different preferences when it comes to how they sleep, which explains the existence of brands like Sleep Number, which offers beds that are adjustable on each side. Kutson wants to make the purchase and delivery of customized beds easier. It also wants to be cheaper than existing options. A queen-size bed costs $800.
Brian Gargalis, founder of Kutson, believes that this customizable approach will reduce mattress return rates, which will reduce the amount of waste. Like many of its competitors, it offers a 100-day trial with free returns, but encourages customers to tinker with the different layers to achieve maximal comfort. Kutson mattresses can be preordered through Indiegogo until the end of the year, then directly through the brand's website.