Earlier this year at Digital NewFronts, Twitter unveiled a series of content deals with some video heavy hitters, including the NBA, MLB, BuzzFeed, and others. It was all part of the social media platform's plan to reintroduce itself to the advertising community as a leader in video. Facebook and Google continue to control the majority of the digital ad revenue coming in, and video is now considered the current holy grail for advertisers to get in front of everyday people in more compelling ways than just boring old banner ads.
As part of Twitter's initiative, over the last year it has been working with a secret team to help woo advertisers to its platform. #Fuel, as the team is called, is a small group of digital strategists who work with brands and agencies to consult and create ad campaigns. Fuel is billed as a way for brands to react fast when they need to run a campaign, as well as figure out the best strategy for Twitter-specific content.
"We launched Fuel this year to basically be an agile hub for responses to briefs for video editing," says Stacy Minero, Twitter's director of brand strategy, who leads the team. She says it's "designed to be more responsive and agile." Beyond just video editing, Fuel offers strategy consulting for individual ad campaigns. So far it's worked with over a hundred campaigns. There are about a hundred people in total on Twitter's brand strategy team, and Fuel is a small subset of it (Twitter, being Twitter, wouldn't give precise numbers).
In essence, if a brand wants to get a flurry of ads up ASAP, it can brainstorm with Fuel, who will then strategize about the best way forward. Then the team will edit and format video and have it ready in a matter of days. The video ads consist of both pre-roll and in-stream feeds, as well as live streams too–along with any other ad unit Twitter offers. Minero says Fuel usually turns around a project between 24 and 48 hours.
Fuel is divided into three parts: content strategy, creative idea development, and video editing. The three parts work on those specific parts of a client's project, but video is one of Fuel's biggest emphases. "Video is our strongest performing format," says Minero.
The team generally meets with the clients to figure out the best strategy (Minero calls this a "planning studio"). Once a plan is hatched, Fuel works on implementing the right message and creating the content–footage is spliced and reordered to become a new bespoke Twitter ad. Speed is of the essence–what clients want most is a way to get their assets edited and up within a matter of days.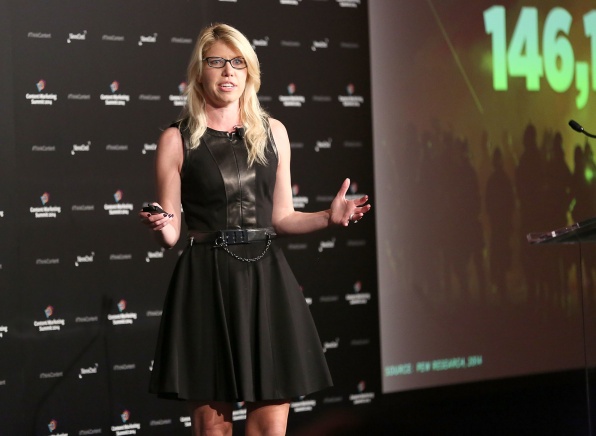 Can This Rebuild Twitter's Ad Cred?
The last few years have been rough for Twitter, with its user growth bottoming out at around 328 million. As Pivotal analyst Brian Wieser said, "it's a niche platform" with a limited audience. Beyond that, Twitter has been beset with hate speech and abuse being shared on its platform, a problem which CEO Jack Dorsey has vowed to fix. To improve the tone of shared content and to reinvigorate user growth, Twitter's drive toward video can help on both those fronts.
What Minero thinks Fuel does is teach brands how to become more fluent with the the platform and its users. According to her, Twitter's platform is unique from other social platforms for a few reasons. For one, users turn to Twitter for "discovery." "People come to the platform interesting in finding something interesting," she says. "I think because of that discovery mind-set you can deliver content that's either utility-based or creating a moment of inspiration."
The sweet spot for these ads, says Minero, is in the first few seconds. Companies and brands come to the Fuel with footage–be it a commercial, a trailer, or something else–and Fuel needs to front-load the information into the very first moment. "It's harder to retain the viewers through a 30 second spot–that's why we advise people to actually cut their content to under 15 seconds," she says. Minero adds that to work on Twitter the content needs to be rooted in current events–"something culturally relevant."
Ultimately, it's about performance and engagement. Advertisers are scrambling to find new media that will actually grab people's attention. Thus why every media company is "pivoting to video"–they can sell more ads, generally on Facebook, at higher prices. Still advertisers are thirsty for options beyond Facebook and Google. The underlying goal of Fuel is to make Twitter's ad platform more effective and more dominant in the digital ecosystem.
Twitter is quick to say that its expertise make ad units more successful. A Fuel-initiated campaign for a new consumer packaging brand saw 4.5 times more awareness than what a normal campaign would see. For a large, more well-known consumer package brand, the Fuel campaign saw 1.8 times more lift in awareness.
Twitter tends to be tight-lipped about who its Fuel partners are, but it would name a few. Both Bank of America and Macy's used the team to create quick video ads. For BofA, the team helped create its "Pay Back a Friend Day" campaign. "The Fuel team worked side by side with us to create high-quality, tweetable content optimized to create engagement in the feed in under an hour," said Kelly Fredrickson, creative, brand & advertising executive at Bank of America in an email to Fast Company. Macy's worked with Fuel on its fall fashion campaign and said that it saw "high consumer engagement."
Embracing The Pivot To Video
As Twitter reimagines and retools its offerings, it remains to be seen whether this pivot to video can help it compete. As Facebook and Google have become the clear digital ad front-runners–known by most as the duopoly, controlling 60% of digital ad revenue in the U.S.–advertisers are looking for a third option. As MoffettNathanson analyst Perry Gold told me last week, advertisers are growing weary of Facebook and Google and are always looking for a third option. Though other platforms like Amazon seem possible, Fuel is one way the company can build out its video suite.
According to Minero, Twitter's ability to instantaneously react to what people are doing and saying make it an ideal way for brands to communicate with its users. What works are campaigns that understand the speed and tone of the site. Some brands get it, she says, and don't need the Fuel team's help. Meanwhile many others may need it to figure out the best way forward. "Right now," says Minero, "we're just trying to be as supportive as possible."