Ever heard of Michigan Tech? The engineering school, located in Michigan's Upper Peninsula, is a full day's drive from the nearest metro areas of Detroit and Chicago, and as a result might not be top of mind for corporate recruiters outside the Midwest. As Garrett Lord sees it, that's a problem for many college students whose socioeconomics and alma matter (and yes, one often dictates the other) make it harder to clinch their dream jobs right out of college.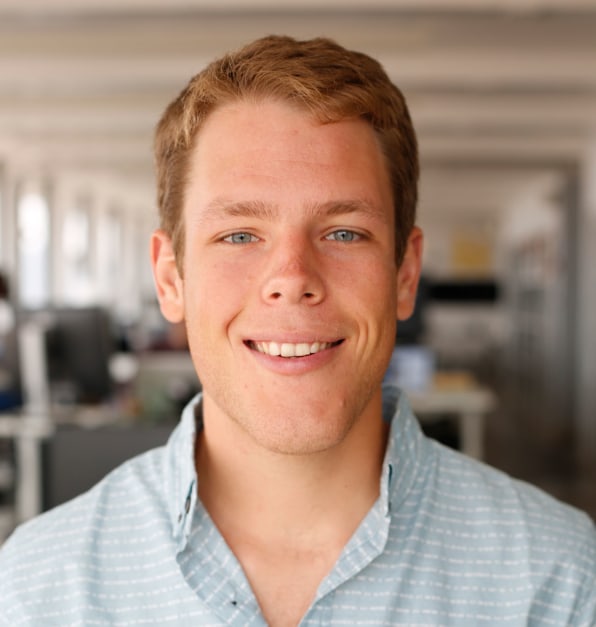 So in 2014, Lord cofounded Handshake with his former Michigan Tech classmates Scott Ringwelski and Ben Christensen, a "first LinkedIn," in Lord's words, that automatically equips college students with bare-bones professional profiles and lets employers get job listings in front of them earlier. Handshake's cofounders see the platform as a counterargument to the so-called "pipeline problem," the notion that there just aren't enough skilled candidates–especially among underrepresented minorities–to hire for open jobs. That still-widespread belief lets recruiters justify retreading the same select handful of name-brand schools in their search for qualified hires.
"We want to help all students," emphasizes Lord, who himself managed to score an internship and job offer at Palantir, but saw how others might not have the resources or resilience to do the same. So Handshake was built to automate many of the functions of a university career center, to match students with more internships, career fairs, and job opportunities based on their majors and interests.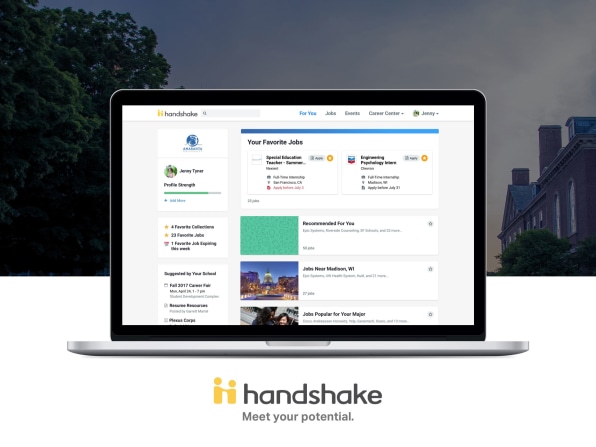 Democratizing Access
Nearly two million students are expected to graduate across the U.S. in 2018, according to estimates from the National Center for Education Statistics. Although Handshake's model isn't totally unique–platforms like WayUp and Talify also aim to match students with jobs–Handshake has already captured a sizable market share by adding in the university connection to its equation.
When a school joins the platform, every current student is given a profile featuring basic information–so far limited to name, graduation year, and GPA; grades aren't visible to potential employers unless the student decides to make them public. It's also on them to flesh out those rudimentary profiles with details that make them better matches.
Nonetheless, Lord says Handshake has scaled quickly to include 450 schools, 60% of which he says are top universities that use it exclusively. That works out to about 6 million students. No wonder the company has raised $34 million in three investment rounds from the likes of Kleiner Perkins, Spark Capital, Lightspeed Ventures, and other well-known Silicon Valley venture capital firms.
But Lord insists that Handshake's greatest potential is just starting to emerge. Signing on eight schools this year from a group of Historically Black Colleges and Universities (HBCUs) is now giving recruiters a shot at sourcing more students of color than they could through traditional means. According to Lord, Spelman College in Georgia is already seeing an average of three to four times more postings of job opportunities for its more than 2,000 undergraduates. "That breadth [of connections] historically wasn't available" to many Spelman students, he adds.
While not an HBCU, Georgia State University's student body is primarily African-American. Assistant Dean Jason Aldrich tells Fast Company that even though Handshake has just been implemented this fall, the opportunities for students are increasing.
Compared to last fall, when the school was using other platforms like Symplicity and GradLeaders, Aldrich says 95% more employers are recruiting Georgia State students via Handshake, and they've posted 112% more jobs from a wider variety of industries and job functions. Whether these postings will convert to actual placements remains to be seen. "Handshake isn't a panacea, of course, but because it attracts top employers who traditionally recruit at only a small number of schools," says Alridch, "it is already helping to democratize access to more opportunities for everyone on campus, particularly our first-generation and underrepresented minority students."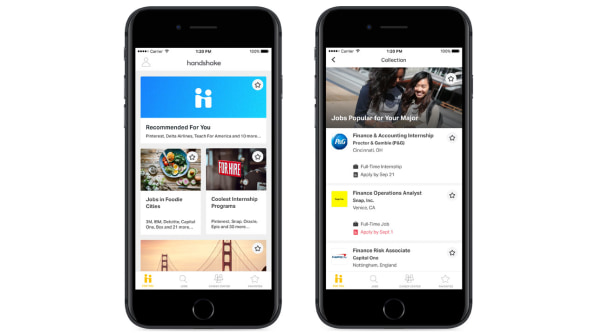 Getting Students Involved Earlier
Of course, widening access to job opportunities is a crucial part of the puzzle, but so is getting students to taking advantage of them. While Handshake lists internship opportunities and career fairs in addition to full-time job postings–in the hopes that even underclassmen start using the platform early on in their college days–it's an open question how many do so before graduation begins breathing down their necks.
At Georgia State, though, Aldrich says students have been readily engaging with Handshake–which is music to Lord's ears. Universities make up the primary source of revenue for the company (employers get a free product but can upgrade to pay for an enhanced version), and the schools that pay for their students to use the service means that Handshake will have a steady stream of incoming users each Fall, making for an unusually broad active base.
And Lord has noticed that many are sticking around after completing internships and graduating, which he credits to Handshake's newest feature: Students can now anonymously rate and review companies much like Glassdoor or Rate My Professor. Lord says companies stand to benefit from this, too. "We reach out proactively with data [on] how they are being viewed," he explains, "and how to target exact students."
Isn't that a recipe for exclusion, though–letting corporate recruiters filter out candidates along the same lines they're used to? Lord says no. Human resources and talent leaders aren't looking anymore for easy "culture fits" when they hire, he contends. Diversity of thought among students and graduates who aren't coming from traditional top-shelf institutions can bring about necessary change, and Lord says employers are wising up to this–which, if true, is great news for Michigan Tech students (Lord's alma mater is now on Handshake).
Corporate gaffes like the Pepsi commercial and even economy-wide debacles like the last financial crisis might have been avoided with more diverse teams, Lord believes. Now, he says, "we can add people who add value to the conversation."