In Helsinki, like many cities, there isn't enough housing to keep up with demand. Some people blame a lack of land to build new housing, but one design firm argues that there is enough land–if you know where to look. The firm's new building is designed to fit in a single parking spot.
"The city is not designed because of humans–it's designed because of cars," says architect Marco Casagrande, principal at the Helsinki-based Casagrande Laboratory, which designed the new tiny house. "All the streets in cityscapes are based on car dimensions. This I found a little bit strange. We have all this talk about the density of cars getting less and less in cities, and at the same time, we are talking about people moving into cities . . . but we don't have space to build. Nobody has been questioning car parking spaces. They are everywhere. So this talk about no land to build in cities is nonsense: It's everywhere, but it's just for cars."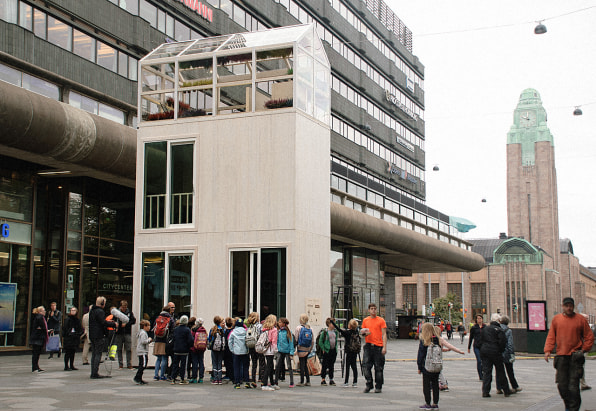 A prototype of the design, called Tikku (Finnish for "stick"), built for Helsinki Design Week, has a footprint slightly larger than 8 feet by 16 feet. But with three stories, it has enough room to make it a comfortable place to live or work.
Casagrande had considered the idea of building in parking spaces for some time, but after working with a particular material on another project–cross-laminated timber, a type of very strong engineered wood–he realized that it would be possible to stack multiple stories on a small space. While constructing a regular apartment building, he used the material to stack modules of the material together, "kind of like big Legos," he says.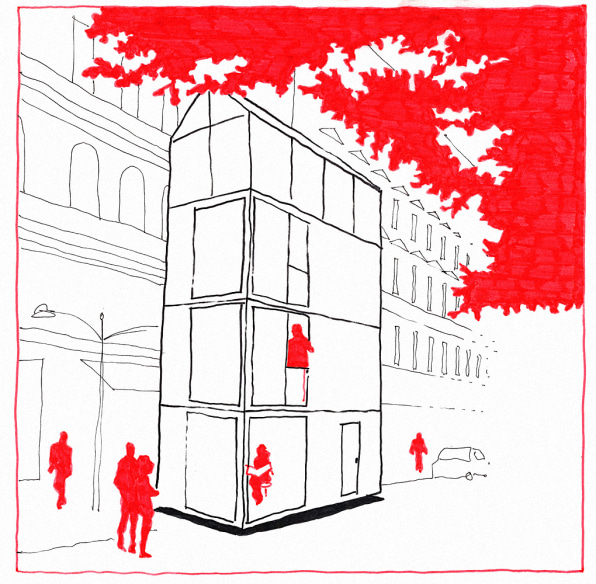 "This could not be done with concrete," he says. "It would become too heavy, and it would sink." By using cross-laminated timber, which is five times lighter than concrete, it's possible to install the tiny house without a foundation. A sandbox on the bottom balances the building; Casagrande says that because the material is flexible, it also performs better than concrete in earthquakes. It's possible to make even taller tiny houses if they are clustered together to provide more support.
The construction process is fast on site: The modules can be built in a factory, and the whole house can be installed in a parking lot overnight. "I would like to emphasize how easy it was," Casagrande says. "It's almost ridiculous. Usually, building a house is really a pain in the ass, and it takes so much effort . . . In this case, it just popped up."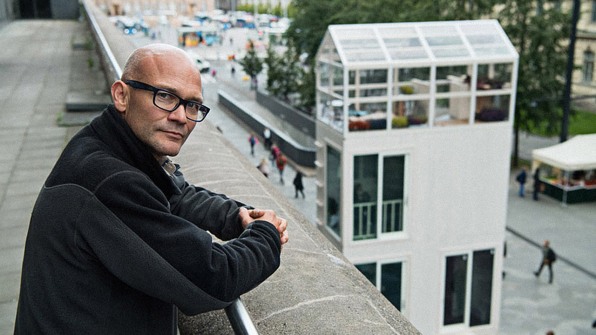 The first prototype doesn't have space for a kitchen or running water, based on the reasoning that someone living in the middle of an urban neighborhood could get food elsewhere and shower at a gym (it does have a composting toilet).  It runs on its own solar panels, and the wood material is self-insulating and warm in winter, so it doesn't need to be hooked up to the grid. But the architects are now working on designs that can also be connected to water and work more like conventional housing.
The modules can be customized for different needs; the prototype has a floor for working, another for sleeping, and a greenhouse on the top. "I want to mass-produce Tikkus in different combinations," says Casagrande. "It's very easy to make very different modules. You can choose what is the best combination for you: If you want two floors for living, or a kitchen unit, or a sauna, or a place for yoga or a place for a small shop downstairs, and so on."
As a shift to self-driving Ubers and Lyfts begins to replace car ownership, an increasing number of parking spaces will be unused, and the architects envision parking lots filling with homes. "Out of these Tikkus I could build 10,000 homes behind any Ikea," he says. "Or if you have parking spots on top of your supermarket, these things are so light, you can easily build a city there."
The architects are already getting orders to produce the houses, which cost around $40,000 for three stories. "It's like [the price of] your average car," he says. Permits will be an obvious challenge for anyone who wants to use the homes legally, but Casagrande believes that cities will recognize the advantages of the design and eventually change codes.
"The building permits and codes are made for things that you know," says Casagrande. "But at the same time, even the city authorities know there are always coming up better solutions. First, they have to bend a little bit, and then find a way. Maybe with Tikku, for example, when you park your car you are paying $1 for half an hour–maybe rent that place for a month, or 10 years, and just put this there. Or if you have a resident permit for parking your car, park this instead."