Dropbox started a decade ago as a way for people to back up their data, and keep files in sync across multiple devices. Over the years, the company noticed that a lot of its users were using the service for work, and today it's launching a new product to make performing such tasks even easier on the platform: Dropbox Professional.
Similar to how the company broke up its Business product into three tiers of service in January, Dropbox Professional marks a new tier of service for individual users. "We found out that Dropbox Business wasn't the only offering that was actually being used for work," says Nina Carriero, product manager at Dropbox. While Dropbox has quite a few customers that use its service for personal data storage, she says that that the company found that roughly 70% of its Plus users are using the service for work.
Those 70% using Dropbox for work fall into two categories: People who work with external clients at larger organizations—for instance, people working in sales, design and marketing–and consultants and freelancers who are using the product on a per-project basis.
"We think that one of the reasons we have so many people using it for work is that there's just so many independent workers and they're accounting for a larger and larger percentage of the overall workforce," says Carriero.
When those independent workers do complete projects for clients, it's important that they deliver a really great impression when they deliver the final product, which is where Dropbox hopes to start coming in handy.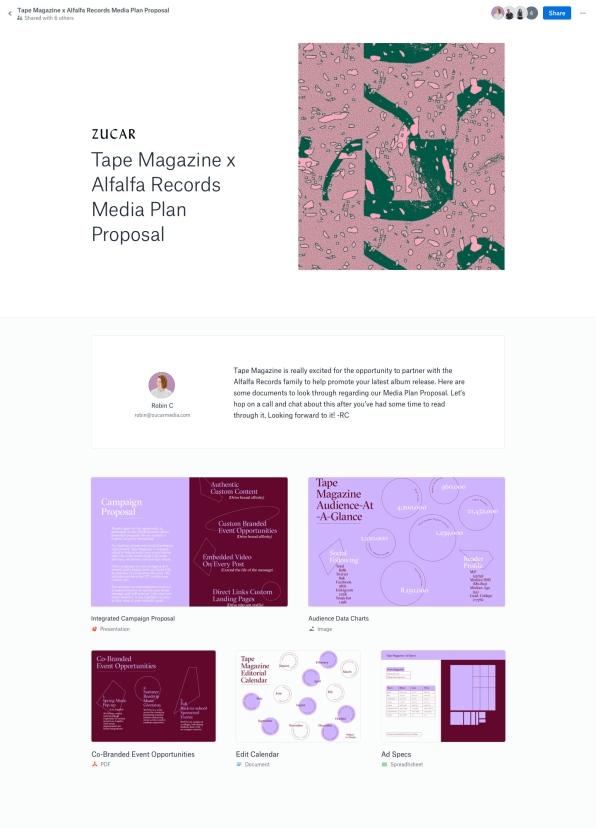 Dropbox Showcase
Showcase is one of the places that Dropbox Professional really shines. The feature allows you to upload files, images, and videos and have them displayed to look more like a portfolio than a file folder.
"We think Dropbox is really perfectly suited to add value in this new work environment," Carriero says. "We're already a common language for users communicating across companies, and across different tech platforms…We're already a major tool for people to share their projects externally. We know with this offering we're making that experience even better."
For professionals working in fields such as design and marketing, it's a much more professional look, without much more work to put it all together. Everything is put together on a single, traded page and Dropbox users can customize the layout of the page as well as add captions.
Just like traditional Dropbox folders, the information within the Showcase is synced with the creator's Dropbox account, so if something needs to be updated after the Showcase has already been shared, Dropbox users can make the adjustments and it will show up on the client side as well, with no need to resend.
Dropbox users can track views of a Showcase, as well as see when individual files have been downloaded or commented on.
Beyond just a presentation tool, Dropbox Professional users also have the ability to create unique sharing passwords for projects they choose to share and create expiring links for projects they don't want to offer permanent access to.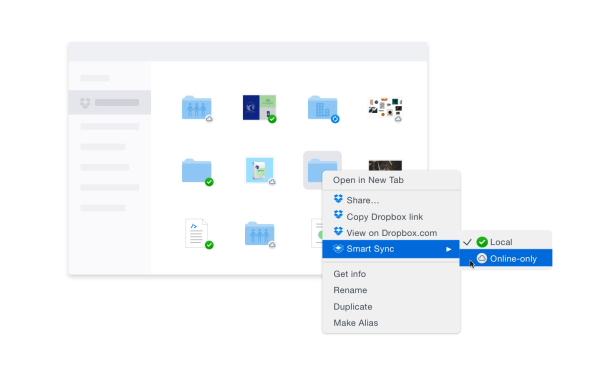 Smart Sync
Smart Sync launched in January for Dropbox Business customers. With it, every file and folder that a user has stored in Dropbox is visible and accessible from the desktop on their computer, without them having to download those files and have them take up space on their hard drive.
"It has been incredibly popular, and we've heard from individuals that they want it badly, so we're bringing it to them with Dropbox Professional," says Carriero. "It's especially important for folks with large files, so they can keep their whole set of files and whole portfolio within Dropbox, and it doesn't have to take up space on their hard drive, so they're not dealing with hard drive restraints."
Availability
Dropbox Professional is available starting today for $199 per year. With it, users get 1TB of storage space and priority chat support, where users can contact Dropbox from 9am-1am UTC, Monday through Friday, to speak with a trained product specialist.
Dropbox Business Advanced users and above can also take advantage of Dropbox Showcase through the Dropbox early access program. Smart Sync is available to all Dropbox Business users in early access.