This weekend I noticed a rare bit of good news in my Facebook feed: In-N-Out burger was going to host a "pop-up" in New York City, or so a Facebook event page claimed. Many of my friends were either attending or at least "interested." In fact, the event had garnered over 40,000 RSVPs.
Starting October 27, said the event, the revered West Coast burger joint would take over a space in SoHo for the weekend. The company would host both an opening and closing party with "special guests" to boot, all while serving endless animal style burgers and fries. It seemed too good to be true, and indeed it was.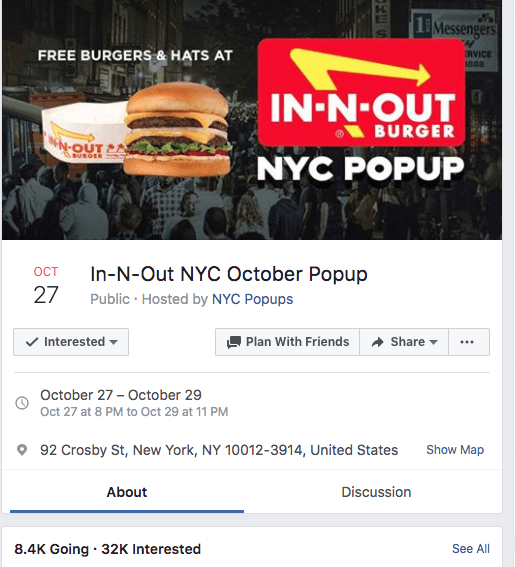 The event is hosted by a group called "NYC Popups," which had only about 300 Facebook likes and has only hosted this one lone event. This struck me as fishy, so I reached out to In-N-Out. A customer service rep on Facebook confirmed that it was a fake, one apparently intended to dupe fellow New Yorkers.
"We're aware of the event going around social media, but assure you that In-N-Out Burger is not doing any events in New York," the rep wrote to me.
The fake event has a similar ring to those "secret" performances that have been circulating on Facebook. Last year, one event claimed Limp Bizkit was playing a show at Sunoco station near Dayton, Ohio. Local police had to warn people about the hoax, and indeed many people showed up at the gas station expecting a show. Other copycat shows were put on Facebook following this hoax's success.
We'll see if there's a similar turnout in SoHo in two weeks. Given the usual demographic in SoHo, a gaggle of burger-hungry Americans taking over the chic neighborhood would be pretty funny.