Inside a gleaming glass tower in downtown Toronto, the Parametric Human Project is building a virtual human body that can be used for medical testing instead of lab animals. Down the hall, a startup called Woodland Biofuels is developing cellulosic ethanol from forestry and farm waste. Across a bridge on the other side of an atrium, the Future Design School helps educators learn how teach skills like creativity and critical thinking; two floors down, Transpod is designing a solar-powered hyperloop.
The startups–along with researchers working on regenerative medicine, blockchain, and artificial intelligence, and corporations like Autodesk and Facebook–are tenants of the MaRS Discovery District, which calls itself the world's largest innovation lab. The nonprofit brings together entrepreneurs working on green tech, health, fintech, and the future of work and learning, and connects them with investors, researchers, regulators, and larger companies. The premise: brilliant ideas in isolation can't produce breakthroughs.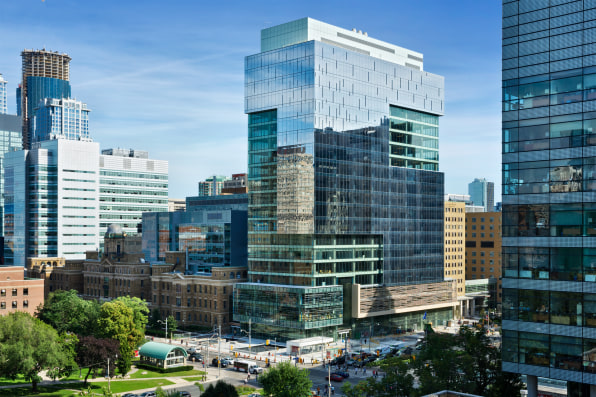 The leaders of the space, which first opened over a decade ago (the name stands for Medical and Related Sciences, the initial focus), think of it as the anti-Apple. If the tech giant's new multi-billion dollar headquarters is a symbol of corporate isolation and secrecy and Silicon Valley's tendency towards sprawl, the Canadian innovation hub is the opposite, centered in the middle of a city and built for openness.
A subway stop goes directly into the building, and a huge atrium in the middle is open to the public. Cafes throughout the space and multiple daily events are designed to increase chance meetings between stem cell engineers and AI researchers or an entrepreneur trying to reinvent healthcare.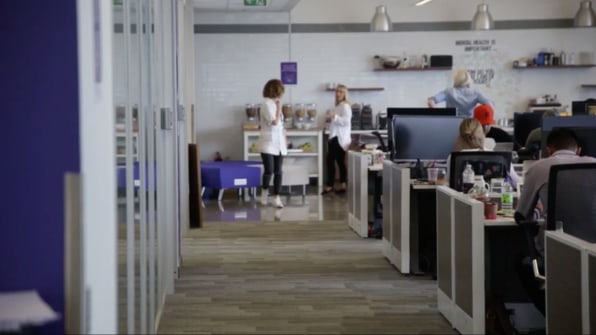 "What's interesting is the cross-pollination potential," says Kousay Said, CEO of GreenMantra, a company that developed a process to convert hard-to-recycle materials like plastic bags into specialty chemicals that can be used to make products that are five times more valuable. He previously worked at Dow Chemical, where any collaboration happened with other chemists.
"We never really talked to anybody about new business models, which is really what technology companies focus on," he says. "You look at MaRS and you'll see technology companies, nanotechnology, biomedical. You start comparing and contrasting business models, relationships you have downstream . . .What MaRS does for us is very often creates this environment where we get together to share these experiences."
Some companies have launched because of the founders happened to meet in the space. Proteorex, for example, a drug discovery startup, was created by two co-founders who originally worked at other companies at MaRS, met each other and began collaborating, and later won an award that funded their own lab space in the complex.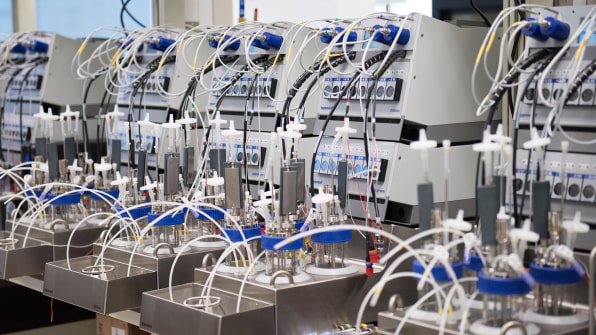 The space is also physically close to university research labs, investors, and government offices. "From my doorstep here at MaRS, it's a 30-second walk to the health department for the province," says Mike Serbinis, a serial entrepreneur working on League, a startup that lets small businesses offer employees customized healthcare plans. "And about a five-minute walk to other financial services players, including the big carriers."
Serbinis, who spent time working in Silicon Valley (his first company, co-founded with Elon Musk in the 1990s, was an early tech company called Zip2; he later founded the first cloud storage platform and the e-reader company Kobo), says that his current startup is much more complex than his previous ventures, and the other complex businesses incubated in the building need different support than a typical tech company. "It's not a dating app," he says. "It takes a different kind of innovation hub to support that."
Working with healthcare systems in Canada and the U.S., he has to navigate issues of privacy, security, and legal and regulatory systems; MaRS supports that type of work both through specific programs and through its physical proximity to the people Serbinis needs to meet.
For many entrepreneurs–including hundreds who work with MaRS but don't have a physical location in the center, and just visit for events–connections often happen by chance. "We often hear people come saying 'I've been trying to connect with people and haven't been able to get a meeting, so I came to MaRS, and I was in the atrium for half an hour and had the conversation I had to have," says Karen Greve Young, a lead executive in charge of managing relationships with the MaRS community. "You don't get that if you're across a highway." Corporations, including Airbnb, IBM, and Samsung, have also chosen to open offices in the space in part to make connections with the others there.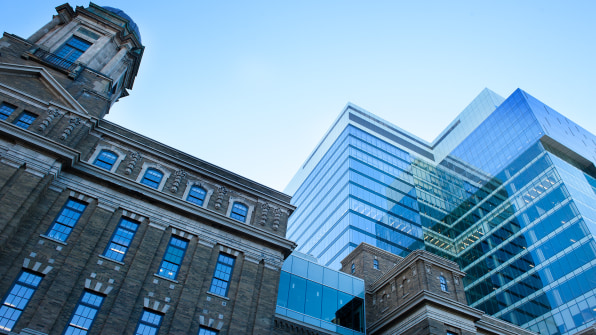 The center is focused on pushing forward social impact. "We don't work with companies that are just looking to make money," says Young. "We focus on companies that are looking for positive impact. They may not explicitly have a double bottom line, but they are thinking about more than a financial bottom line." It also seeks to support companies with diverse and women-led teams.
It's one example of Toronto's willingness to experiment with new urban models–on a much larger scale, Toronto is also now working with Alphabet's Sidewalk Labs to build an entire neighborhood that will be home to startups working on urban challenges such as energy use and transportation–and other city leaders are now interested in attempting something similar to MaRS. The district gets hundreds of visitors a year. Young says that if other communities try to build their own version of MaRS, they should look to what makes their location unique–Toronto already had strong research in the areas the district supports–but that a central location is also key. "We see magic in the city as a starting point," says Young. "Just by virtue of a density of people, you have more collisions of talent. So I think the city as a starting point is an important first step. Each city will build from its assets."