Ten years ago next month, Amazon got into the digital-book business by introducing its first Kindle e-reader. Today, a lot of Kindle reading happens in apps on phones and tablets, but the company says that Kindle hardware is still a growing business. And with its latest high-end model–formally known as the all-new Kindle Oasis–the hardware itself has grown a bit.
Almost every previous Kindle from the original 2007 model to last year's Oasis has sported a 6-inch E Ink display. The new one ups that to seven inches, for 30% more space on a page. Like the 2016 Oasis, it still feels tiny, and Amazon cleverly puts the battery in a bump on the back that doubles as a grip. (The battery, like the screen, is now larger–Amazon says that it offers up to six weeks of life if you read for a half-hour a day–which led the company to get rid of the secondary battery it built into a case for last year's Oasis.)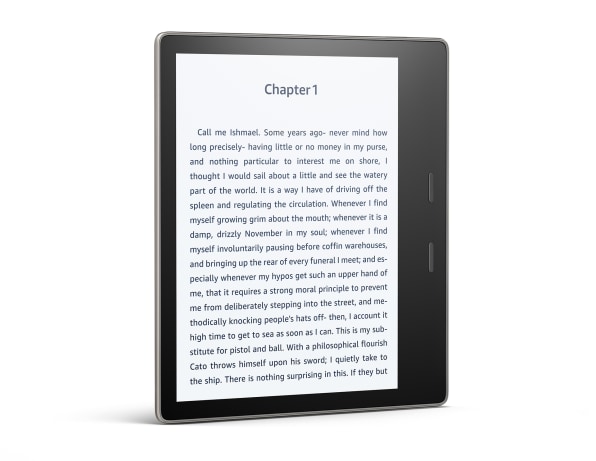 This is also the first water-resistant Kindle–an amazing fact given how long Amazon has pitched the device as ideal for beach reading–and the first one in years to support Audible audio books, which it does via Bluetooth (sorry, no headphone jack). It's $250 with 8GB of storage, $280 with 32GB, and $350 with 32GB and built-in LTE. All versions ship on Halloween.