In 2012, the United Nations designated October 11 as International Day of the Girl, in part to raise awareness of the struggles that girls around the world face in achieving equality with their male peers. Five years later that struggle continues, according to a new survey from Save the Children, which analyzes how grade school children view each other and the power dynamics of their parents at home.
In fact, there's a persistent gender bias around the globe, with the sort of negative stereotypes that dominate in some developing countries also widely present in the United States. These attitudes appear to start early, and may even be encouraged in some homes.
To show that, Save the Children surveyed more around 1,900 fourth graders in West Africa–nearly 1,400 and Sierra Leone, and another 400 or so in Côte D'Ivoire–and about 500 same-grade school kids in America. The children were asked whether they agreed with a series of misogynistic statements, like "boys are smarter than girls" and a "wife should obey her husband."
Turns out, in West Africa the majority of grade boys believe they are smarter than the girls around them. (70% and 61% of boys per country agree, respectively.) That patriarchy-imposed delusion appears to already be creating inaccurate perceptions among girls, as well: more than a quarter of the girls in both places agree that boys are smarter.
To be clear, these aren't just developing world viewpoints. As the chart below shows, nearly 40% of boys in the United States tend to agree with such misogyny already, compared to 5% of girls.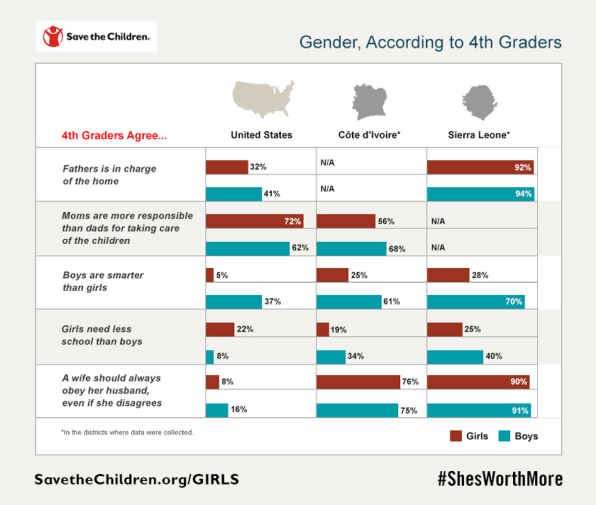 Around the world, the theme of male-dominance affects kids' opinions on family dynamics. More than 90% of boys and girls in Sierra Leone and 75% those surveyed in Côte D'Ivoire believe that wives should always obey their husbands. In the U.S., nearly 70% of boys and girls feel that taking care of the house is mother work.
The underlying issue is what these views mean for everyone's future. For young women in the developing world especially, facing gender discrimination can be particularly damaging because girls who question their self-worth may drop out of school or be pressured into starting families earlier, which often traps them in a cycle of poverty by limiting their future potential. According to Save the Children, girls in these areas are twice as likely to suffer from malnutrition, three times more likely send up out of school, and twice as likely to suffer sexual violence, compared to their male counterparts.
In fact, Save the Children, in partnership with World Bank, found that inequality may be a contributing factor for the 7.5 million girls who are forced into illegal marriages each year. Close to 25% of those take place in West and Central Africa. That doesn't account for the 100 million left vulnerable by living in counties that don't punish such practices.
In the United States, gender discrimination manifests in a variety of ways as women grown up–it's obviously a part of what makes sexual assault, unequal pay, and potentially toxic workplaces a constant issue. Parents may ultimately enable these problems, according to Save the Children's data, which asked the parents of those surveyed to share their opinions on several key topics, as well. Overall, 30% of fathers believe boys are smarter than girls, and 25% think it's more important for boys to be educated. Around four in 10 fathers think men should make higher paychecks, while one in five moms agree with that.
Save the Children considers these statistics a baseline. Now that it has tracked such unfair perceptions, the group hopes to change them. To that end, they're encouraging folks to donate to their programs, which do everything from providing girls the necessary supplies to attend school, to helping shelter refugee families with children when they're uprooted. There's also a program that trains sex trafficking survivors as abuse educators. You can read more here.
"On International Day of the Girl, we want to let girls know that they are worth more than the world tells them," says Save the Children's president and CEO Carolyn Miles in an email to Fast Company. "Our findings show that we need to work on changing laws AND changing attitudes to give girls the futures they deserve. It will take a combination of the both to ensure equal education is prioritized for every last girl, and to help bring an end to child marriage and gender discrimination."
One step to "acknowledge that the bias against girls still exists," she adds, and try to have conversations that diffuse it. Another, more tangible one: The group is asking people to encourage U.S. Senators to cosponsor and pass the Protecting Girls' Access to Education in Vulnerable Settings Act, which will ensure that equal educational access becomes a key component of future foreign aid assistance to refugees.