What: The first full trailer for Star Wars: The Last Jedi.
Who: Disney, director Rian Johnson, and the usual suspects–Daisy Ridley, Mark Hamill, Carrie Fisher (RIP), and one special little guy.
Why we care: Until today, I never believed in love at first sight. I used to think it was just a myth, an expression, or a convenient way to drive the plot of romantic comedies that were kind of creepy in retrospect. Then I saw a porg.
#TheLastJedi trailer literally could have just been the porg and I would have bought tickets pic.twitter.com/9dhL2LLiLa

— Ash ???? (@smile_kid_amc) October 10, 2017
Friends, let me be clear: my heart is absolutely devastated over this weird lil' hamster-bird. It's all over for me. I look at my adorable tuxedo cat and feel nothing. All I want to do is go to the enchanted space zoo and play with a porg in a bouncy castle. Also, I want to write sonnets?
For those who don't follow, there's a porg in the trailer for the latest Star Wars movie. I think it's called Empire Revenge Attacks or something, but I wasn't paying much attention after the porg came onscreen. Even now, I can't wait to finish writing this sentence so I can look at the porg again. Porgs.
Just go ahead and give me the Chewy and Porg buddy cop film announcement already. #TheLastJedi pic.twitter.com/HbVPZVrLUb

— Brandon Fitzgerald (@BrandonFitzy) October 10, 2017
According to Wookiepedia, the immaculately named Star Wars wiki, porgs are "a sea bird species native to the planet Ahch-To, where Jedi Master Luke Skywalker made his exile in the years following the Battle of Endor." So, that should be helpful if you ever want to steer a conversation among Star Wars heads over to porgs. Just say something natural like, "What do you think Jedi Master Luke was up to on Ahch-To all those years until Rey showed up? My guess is he bred and raced porgs for sport but definitely didn't eat them." Welcome to a conversation you will be having for the next 14 hours.
— Marc (@MarcSnetiker) October 10, 2017
Maybe the greatest thing about porgs, though, is that the one in the forthcoming Jedi Hope Clone is paired up with Chewbacca. Star Wars has had great success with iconic twosomes before (R2-D2 and C-3PO, Leia and Jabba), but I mean, come on. These two rascals together? Game, set, match.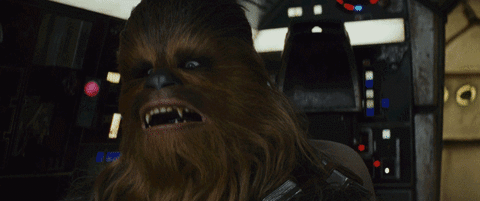 In conclusion, porgs have taught me about what it means to be human (a chance to love porgs) and nothing will ever be the same. Oh yeah, and here's the trailer for the new Star Wars.