For its next Grand Challenge, XPrize has chosen to focus on early detection of Alzheimer's Disease, to launch next year.
In an unprecedented move, the Los Angeles nonprofit also greenlit four other finalists–in Clean Air, Cybersecurity, Evolving Our Democracy and Zero Waste Mining–for future competitions.
"We didn't expect that, but all five qualified," says XPrize CEO Marcus Shingles. "It's the first time that's happened."
Every year, XPrize chooses several global problems, and seeks innovators in those fields to helm teams attempting to craft proposals for these challenges. The teams are given stipends and six months to identify approaches to solving their respective challenges.
This year's five teams presented their strategies at XPrize's annual Visioneers Summit last weekend at the Terranea Resort in Rancho Palos Verdes, Calif., to a gathering of 250 corporate and political leaders, entrepreneurs, philanthropists, artists, technologists, and scientists. Summit attendees scored the presentations on potential effectiveness in 10 arenas, such as need, fundability, scalability, public engagement, and utilization of crowdsourcing, incentive competition, and gamification.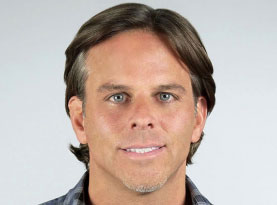 "I took a page from my old business," says Shingles, who was a partner at Deloitte Consulting before moving to XPrize. "It's similar to a business RFP," a request for proposal, "but instead of a proposal that makes a profit, it's for impact. They're presenting why they think they can solve a problem using XPrize methodology."
The Alzheimer's proposal–led by scientist/innovator Philip Edgcumbe in partnership with aging expert Dr. Ken Dychtwald and funded by the Alzheimer's Brain Trust–scored highest with its call for a cross-disciplinary development of a less-invasive early detection technology and methodology than currently exists.
Shingles noted it also appealed to the audience-judges–and garnered support from high-profile experts and celebrities–for highlighting a menu of trending technologies, like artificial intelligence and genetic engineering, to be harnessed. The audience also likely saw this as a first of several competitions leading to detecting, treating, ultimately, eradicating a fatal disease that affects nearly half of people over 85.
XPrize and interested advocates will next help the team detail a competition structure and find a sponsor for the prize money, still undetermined, but likely in the millions of dollars. Those funds have traditionally come from a mix of individuals, foundations, companies, and crowdfunding. (Funders listed on each team's page—such as Singapore's National Research Foundation, Chilean Mining Consortium, Accenture, and Green China— provided the six-month stipends.)
Although the Alzheimer's proposal scored highest, the other teams merited competitions in subsequent years, pending funding and continued interest. Shingles believes the Summit's revamp–from subjective pitching session to objective review and vetting process–had a lot to do with the successful score sweep.
"Our plan next year is to do one or two more of these," says Shingles. XPrize currently has eight active prizes, with plans to launch the ANA Avatar, Conquering Cancer, and Alzheimer's prizes next year. "In the case of the Zero Waste Mining proposal, we have industries already telling us, `If you can figure out this technology, we will adopt it.' "
Meanwhile, XPrize is looking for ways to expand its competitions. Traditionally, the Visioneer's Summit has presented challenges from across disciplines, such as the environment, health and well-being, space and new frontiers, and education. But next year XPrize plans to add a Summit that presents several challenges under an umbrella topic, such as housing and ocean health.
---
Related: Google Spurs Amazing Robot Race To The Moon 
---
XPrize is also increasingly targeting niches overlooked by governments, private industry, and academia due to shifts in the political winds, changed fiscal priorities, or market forces. Provided the funding keeps flowing, Shingles says he hopes the competitions will allow humankind to better harness the potential of AI, big data, and the internet-connected global brain.
"Instead of a conference to discuss problem topics," says Shingles, "our Summit is about creating instruments to solve these things—and can we crowdsource the world to do it?"