When you step inside the modest, sparsely furnished studio on the eighth floor of a non-descript building in lower Manhattan, it's hard to believe that entire worlds are created here. But that's exactly what happens at Sensorium, the three-year-old virtual reality studio founded by Matthew Niederhauser and John Fitzgerald. Niederhauser and Fitzgerald met some 15 years ago in a New Hampshire boarding school. For about a decade their paths diverged, with Niederhauser pursuing photojournalism in China, and Fitzgerald conducting film work in Bolivia and Brazil. Gradually, the old friends found their way back to each other—and the burgeoning medium of virtual reality found them.
To get inside a VR headset in Sensorium's offices is to embark on a kind of digital safari, sampling the wild range of creations made possible by this emerging art form. And to interview Niederhauser and Fitzgerald is to pick the brains of two of that art form's boldest entrepreneurs.
For Sensorium's founders, virtual reality is such an exciting space precisely because it is so demanding. Indeed, to succeed as a VR entrepreneur today, you need to be able to wear many different hats, and be conversant with many different technologies and skill sets. In a sense, today's VR entrepreneurs are modern Renaissance Men and Women, whose creations draw deep from wells as disparate as the arts, science, business, and psychology, among other fields. So here are five of the most important "hats" a VR enterpriser must wear (along with the headset, of course):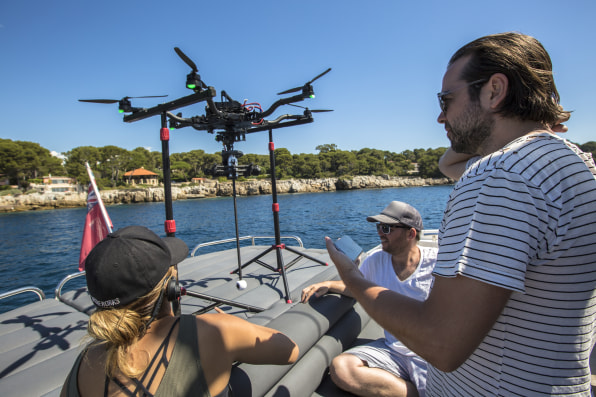 1. A technologist
There's no way around it: virtual reality is an emerging technology, and in order to excel at it, you need to navigate a constantly mutating landscape of hardware and software. "All the production tools, the post-production workflows, and platforms we're delivering on are all constantly shifting," says Niederhauser.
One Sensorium "experience" (the term of art for a VR film), done in partnership with Samsung for Cannes Lion, vividly illustrates the array of hardware and software with which a VR auteur must be familiar. As the viewer is swept across various Cannes landscapes, from beautiful hilltops to luxurious beaches, looking up or down at various moments reveals glimpses of the varied camera systems the Sensorium team had to use (sometimes as many as 20 cameras are used simultaneously in creating an experience). Then all those video files, which amount to terabytes of data, must be overlapped and stitched together into a very large render: your final, perfect sphere of perception.
In other experiences Sensorium produces, customers wearing different headsets can actually interact with each other in virtual worlds and in real time—networked experiences that require the use of both AI and software that can seamlessly integrate more huge data sets. "A lot of our time is spent experimenting with these tools," says Niederhauser.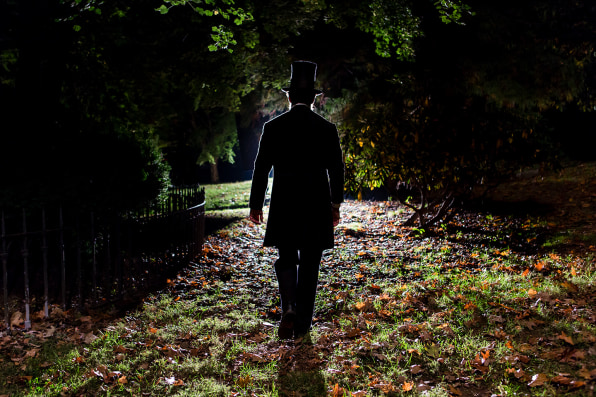 2. A theater hound
In Sensorium's best known experience—a companion VR experience to George Saunders's novel Lincoln in the Bardo that was directed by Graham Sack—the viewer stands in a darkened graveyard as ghosts approach, speechifying, from all angles. Gradually the viewer realizes this is the modern version of a Greek chorus from a decidedly ancient medium: live theater. "In terms of acting and direction, we're finding that theater is a super important medium," says Niederhauser, even more so than film acting (which is more heavily manipulated through editing).
In another Sensorium experience, "Subject: Object," Sensorium partnered with the off-Broadway theater New York Theatre Workshop. In "Subject: Object," the viewer is essentially treated to the experience of being a series of theatrical props. In several artfully disorienting scenes, the viewer alternately takes the point of view of a baguette that is about to be eaten, a wine glass that is about to be filled, and of a rotary phone whose dial is spun round and round.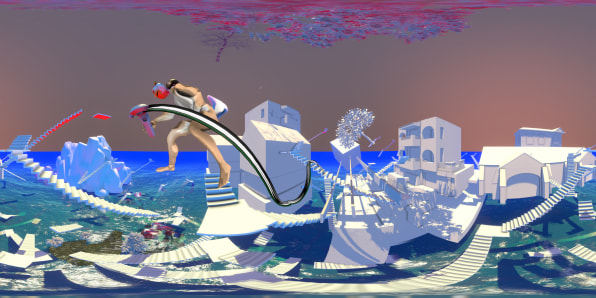 3. A visual artist
While it draws from many traditions, there's no doubt that VR—fundamentally an evolution of the medium of film—is firmly rooted in the visual arts. It's no surprise, then, to learn of Sensorium's close association with major museums and artists in their home base of New York. Niederhauser and Fitzgerald were resident members of NEW INC, an incubator at Manhattan's New Museum, and they have conducted multiple projects with Rachel Rossin, Google's first Artist-in-Residence.
One Sensorium project, done in collaboration with MoMA, is simultaneously a documentation of art, a meditation on art, and a work of art itself. When MoMA recently remounted (almost 25 years after its first appearance) a multimedia installation by Japanese artist Teiji Furuhashi, the museum commissioned Sensorium to make a companion VR experience that simulates visiting the installation: a dark, circular room where nude figures are projected along the wall. The Sensorium experience adds an archival audio track of a MoMA curator interviewing Furuhashi shortly before his death in 1994. The Sensorium VR piece itself, says Niederhauser, might someday greatly assist a future curator looking to remount Furuhashi's work of art again.
4. A savvy business person
While much of Sensorium's work deals with the avant-garde, a lot of it also necessarily deals with large companies, whose marketing and R&D budgets are funding the explosion of experimentation in the form. When working with brands with a stake in a VR experience, says Niederhauser, "One of the biggest things you're doing is trying to explain what it means to be working in a completely new medium. There's a lot of explaining what the medium can do and what it can't."
In addition to a deep and ongoing relationship with Samsung, Sensorium has collaborated with Stride Gum, which sponsored professional skydiver Luke Aikins as he dove—without a parachute—from an airplane, plummeting 25,000 feet into a net (and world record books). Sensorium was there to document it for a VR experience—and to advance a chapter in the new ways brands impress themselves indelibly into the minds of consumers.
5. A consumer
All product designers speak about the consumer's experience, of course. But only in virtual reality, perhaps, do they literally call their product an experience. All the varied skills, all the effort, all the nuts and bolts—the weeks or months of fundraising and preparing, of production and postproduction—face a terrifyingly simple test in the end: whether an average person stuck inside a helmet winds up having a powerful experience or not. Even though it's where the journey ends, that is where a VR maker has to start.
Says Fitzgerald: "The aspect of how the audience will perceive what they're watching is first and foremost in planning a project. It's page one."
For more examples of innovative customer experiences, check out Couchbase, which has built the world's first engagement database.
---
This article was created for and commissioned by Couchbase.