It's the size and shape of a donut, so why not riff on that?
That's apparently the theory behind a pop-up Home Mini showroom tour that Google is launching today in San Francisco in order to promote the brand new, smaller sibling of its year-old Home assistant.
Over the next few weeks, the charming little stores will also visit Los Angeles, Madison, Oklahoma City, Austin, St. Louis, Indianapolis, Chicago, Toronto, Manhattan, and Brooklyn.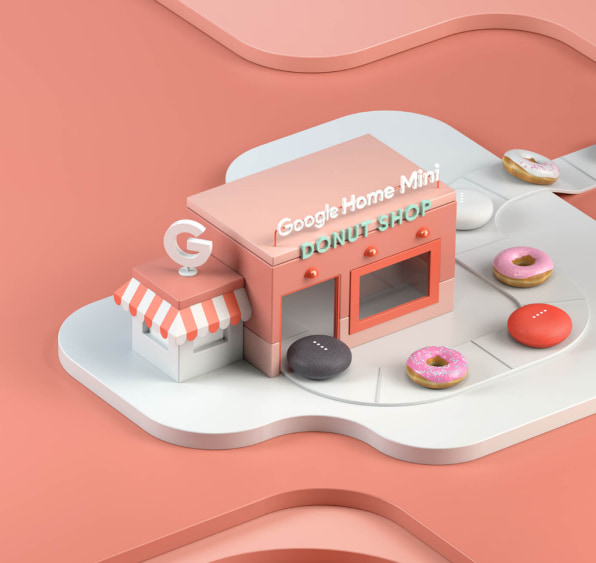 "The new Google Home Mini is the size of a donut," Google writes on the tour website, "with the powers of a superhero. Come get a taste at one of our pop-up donut shops – now on tour!"
City + Donut Shop
Dates
San Francisco + Johnny's Doughnuts
Oct 4th, 

Oct 14th-15th

Manhattan + Doughnut Plant

Oct 4th – 8th

Brooklyn + Doughnut Plant

Oct 20th – 22nd

Los Angeles + Randy's Donuts

Oct 7th – 8th

Austin + Voodoo Doughnuts

Oct 21st – 22nd

Toronto, Canada + Jelly Modern Doughnuts

Oct 26th – 27th

Oklahoma City, OK + Brown's Bakery

Oct 28th – 29th

Madison, WI

Nov 2nd

Chicago, IL + Stan's Donuts

Nov 4th-5th

Indianapolis, IN + Taylor's Bakery

Nov 4th

St. Louis, MO + Strange Donuts

Nov 9th
The first stop, in San Francisco, is located just a few blocks away from where Google hosted its big Pixel phone event earlier today. At that event, it unveiled the new Home Mini, along with a slew of other products, including the new Pixel phones, as well as the Home Max smart speaker and a new Daydream View VR headset.