The European Commission has found that the U.S. internet retail giant has been illegally receiving state aid from Luxembourg since 2003 through a tax-minimization vehicle known as "transfer pricing." The vehicle allows one Amazon subsidiary to charge another Amazon subsidiary for goods or services. In this case, the Luxembourg Amazon subsidiary processes most of Amazon's sales but then pays royalties to another Amazon subsidiary that is not subject to corporate tax.
The order to pay the bill, which is around $294 million, will send shockwaves around the business world at companies who use the same tax loophole tactics as Amazon.  In a statement, the EC's Commissioner Margrethe Vestager, said:
"Luxembourg gave illegal tax benefits to Amazon. As a result, almost three quarters of Amazon's profits were not taxed. In other words, Amazon was allowed to pay four times less tax than other local companies subject to the same national tax rules. This is illegal under EU State aid rules. Member States cannot give selective tax benefits to multinational groups that are not available to others."
Amazon has yet to reply to the ruling.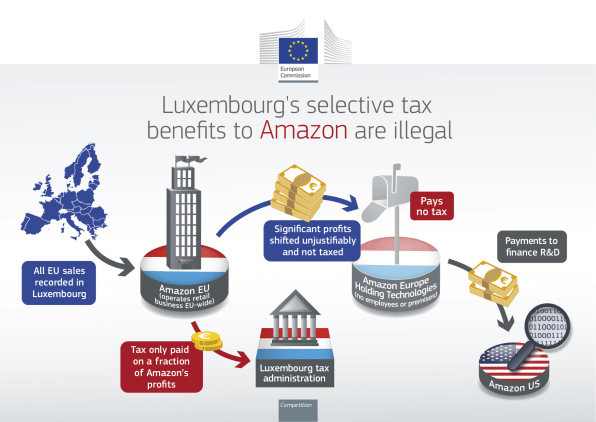 [Infographic: European Commission]