Podcast dramas have bubbled in the recent past as a modern resurgence of the radio serials of yesteryear. Shows like Homecoming and Welcome to Night Vale became must-listens more so because it was a welcomed breeze in the sometimes stale landscape of topical or non-fiction podcasts  in general. However, as novel as audio dramas may seem, it hasn't necessarily translated into an abundance of advertisers–a familiar plight of podcasts at large. But Alex Aldea is set on changing that.
Aldea is the founder of the podcast network The Paragon Collective, home of the Reddit-born anthology series NoSleep, Darkest Night, and its most recent entry in the audio drama space Deadly Manners, a whodunnit murder mystery starring Kristen Bell, Anna Chlumsky, RuPaul, Denis O'Hare, and narrated by LeVar Burton.
"I think it's a really cool a growing medium," Aldea says. "I started Paragon about three and a half years ago and there's been a big shift with me of trying to find a place where I felt I belonged. And the second we started working with NoSleep and getting into the fiction space, it just kind of clicked–and there's really a hardcore fan base out there."
Deadly Manners started as a pitch from TV writer Ali Garfinkel (Burn Notice, Hand of God) who had previously written two episodes of Darkest Night. Tonally speaking, Garfinkel says she wanted to make a show that would live somewhere between the 1992 black comedy Death Becomes Her and Clue–the challenge being that she couldn't write Deadly Manners in the vein of either of her inspirations.
"I'm a TV writer so I'm very used to just writing for visuals. And so writing for an audio podcast, there's no subtlety. You can't have a scene with a bunch of actors looking at one another and sharing feelings with a glance–you have to describe everything because people are just listening," Garfinkel says. "The thing about audio drama is that it seems like it would be less immersive than a TV show or movie, but when it's recorded the way that Alex does it with the binaural headphones, you're literally surrounded by sound and it's a 3D experience. And I think for some people it has more of an impact than just watching a video."
Creating that immersive experience is what Aldea hopes will pull in listeners beyond the fanbases his podcast network of shows has already accrued. And Aldea's attention to production detail in order to execute his creative vision is something he's not willing to shortchange–even if that means driving for hours just to use one microphone.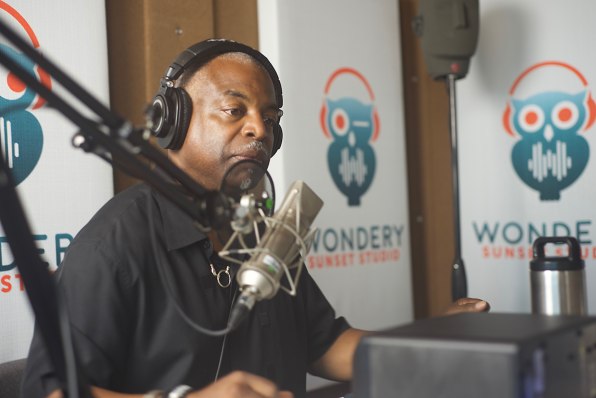 "What makes my approach to recording unique is that I take it from the perspective of being a failed musician. Every vocal line has to feel like it falls in place, has a rhythm, is an instrument, and serves its role in the greater product," Aldea says. "We started doing binaural productions working on Darkest Night. When we started the recording process for that show, there was only one place in L.A. that rented [Neumann] KU 100s. For the first few recording sessions, I would drive 90 minutes each way to rent this mic because I was so in love with it. After a while, I decided to call Neumann's Germany office twice a week at 10 a.m. their time–2 a.m. my time–to let them know what we were doing for Darkest Night and that this was the future.  After a while they relented and sent us a KU 100."
Even though Darkest Night was able to pay for itself, getting Deadly Manners off the ground was still a "stop-and-go" endeavor, as Aldea describes it. Getting major companies on board with podcast advertising has been a universal problem for most creators, but that may change with Apple providing deeper analytics through their recently released iOS 11. While more comprehensive analytics could mean more advertisers in the future, Aldea is hoping the genre of audio dramas, and the art form it's become, will give it a competitive advantage to go toe-to-toe with film or TV.
"With a show like [Deadly Manners] there are definitely a couple of challenges. From a business angle, audio dramas aren't necessarily a huge acceptable business yet. For a large percentage of advertising agencies in podcasting, they look at their go-to podcasts like The Ben Shapiro Show and The Joe Rogan Experience. We had to change marketers' opinions of the space, as well as find the people who really believed in us," Aldea says. "What's great about the partnership that we have with AMC Networks and Sundance Now is we're not just saying, hey we want to bring audio dramas to the masses–we're saying hey, audio dramas can actually pay for themselves and people want to hear this contrary to what Hollywood thinks."
Deadly Manners is available wherever you get your podcasts.