In front of the holiday shopping season, Google is set to hold a major press announcement Wednesday (follow our live blog here), and some details are leaking out. Amazon did the same thing last week, but had far better luck keeping its new products under wraps.
Gizmodo discovered this morning that Walmart had jumped the gun by posting a product page for a new $49 Google Home Mini smart speaker. The device is 4 inches across and weighs well less than a pound. The listing says the Mini does everything the larger Google Home does, just in a smaller package (and presumably with a smaller speaker).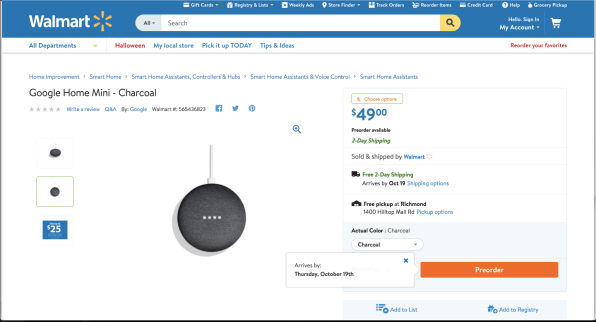 Google Home Mini profile.https://t.co/AQDmEhr5M3 pic.twitter.com/o4nzBSxGqL

— Droid Life (@droid_life) October 3, 2017
Meanwhile, 9to5Google combed through a new beta code release of Google's Assistant and managed to find mention of what is likely to be a new set of Google earphones to answer Apple's AirPods. Google's Assistant will be available in the earphones, which an earlier report said would cost $159. Another report says the two earbuds would be connected by a cable running behind the user's neck. They would connect to the device wirelessly.
Earlier, Droid Life leaked the upcoming Pixel 2 XL smartphone, which will sell for $849 and up.
And Here is the Pixel 2 XL in Black and White, Starting at $849. #pixel2 https://t.co/NAyk9cmvmk pic.twitter.com/30MiYgKQTr

— Droid Life (@droid_life) September 19, 2017
And Leaker-in-chief Evan Blass has the goods on the smaller Pixel 2.
These are the Google Pixel 2 and Pixel 2 XL https://t.co/cXCs560jNH pic.twitter.com/f3P47aeZ2I

— Evan Blass (@evleaks) October 2, 2017
I'm confident Google will still have plenty of un-leaked stuff to talk about tomorrow. See you then on the live blog.