More than a year after Sonos first announced its voice partnership with Amazon, the first Alexa-powered Sonos speaker is here. The Sonos One, as it's called, resembles the company's entry-level Play:1 speaker, but with redesigned controls and a six-microphone array on the top and Alexa voice control built right in. It allows users of the Wi-Fi speaker system to control any of the more than 80 music services that integrate with Sonos.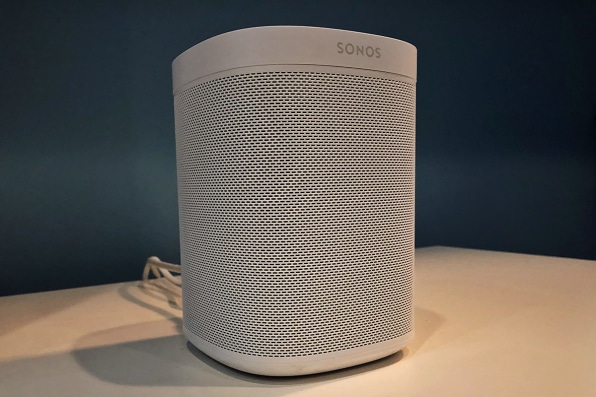 The company also unveiled a broader integration with Alexa that brings voice control to other Sonos devices using Alexa-enabled devices like Amazon's Echo and Echo Dot. That integration is available today as a public beta over a software update.
For Sonos, Alexa is merely the first step in a broader strategy around voice control. The company says it plans to integrate with other voice platforms in the future. Next year, the company says it will add Google Assistant to the Sonos platform as well.
Unlike most "virtual assistant" speakers on the market, the Sonos One doesn't rely entirely on voice control. Sonos still has its own proprietary mobile app for searching and playing music, which just had a significant redesign unveiled today as well. Sonos is also adding more in-app integrations with other music services like Pandora and Tidal, much like they launched for the Spotify mobile app last year. This concept of "continuity of control" is a new approach for Sonos, which previously required users to utilize its own proprietary music controller app to access the music services its supports.
Sonos One is available on October 24 for $200.