In the wake of the deadly shooting in Las Vegas last night that left more than 50 dead and hundreds injured, people around the world are scrambling to get up-to-date information. Technology platforms like Facebook and Google are obviously go-to sources for news updates, but they're not proving very reliable.
On Facebook's dedicated "Safety Check" page for the Las Vegas massacre–which says it lets users "connect with friends and family and find and give help after a crisis"–one of the top stories earlier today was from a Blogspot titled "Alt-Right News." The article describes a female person of interest and calls her husband a "Trump-hating Rachel Maddow fan," thanks to screenshots of a Facebook page.
Yet this information is incorrect. Initially, the police were looking for a woman potentially connected to the shooting, but she is no longer considered a suspect. All the same, right-wing sites like Gateway Pundit published articles without verified information, citing this woman's husband's Facebook page as proof of a left-wing agenda. Gateway Pundit has deleted the article, but examples–like this Blogspot–are still around sharing this fake news. And platforms like Facebook are promoting them. A website called "End Time Headlines" was also at the top of the Safety Check page, as were pictures of people fleeing the massacre.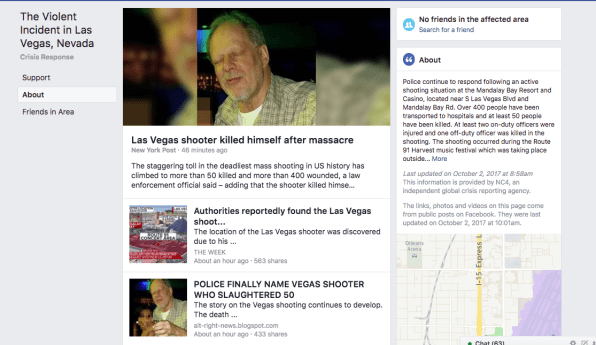 The spread of misinformation remains a huge problem for large platforms like Facebook and Google, which rely on algorithms to push the most engaged stories to the top. Google this morning highlighted 4Chan threads at the top of its page, which also incorrectly named the suspect. BuzzFeed found a trove of hoaxes already widely disseminated online–many of which are gaining traction with the help of automatic news algorithms on technology platforms. Hopefully by this morning, less fake news will be available, but we can't depend on algorithms to do that.
Update: A Facebook spokesperson provided us with this statement:
"Our Global Security Operations Center spotted the post this morning and removed it. However, its removal was delayed by a few minutes, allowing it to be screen captured and circulated online. We are working to fix the issue that allowed this to happen in the first place and deeply regret the confusion this caused."
---
Related: What Safety Check Reveals About Facebook's Changing Role
---
It should be noted that I captured the screenshot myself. Both my colleagues and I saw the post–along with other questionable links–on the "Safety Check" site for at least thirty minutes.