A week after Amazon debuted its new Fire TV video streamers (and a haul of other Alexa-enabled devices), Roku is introducing its latest players. The headlining Streaming Stick+ provides 4K/UHD resolution at 60 frames per second and HDR (high dynamic range) video for $70. It's a sleeker form than Amazon's new dongle design: a box that hangs from an HDMI cable but otherwise matches Roku on specs and price. Both are testaments to tech progress. In 2013, getting 4K/UHD video required something like Sony's FMP-X1–a nearly five pound, 10-inch disk that cost $699 and took several hours to download a movie to its hard drive.
Viewers without 4K TVs can spend just $30 for the new Roku Express basic-HD box. (The previous model, with a slower processor, is about $25.) The new HD-only version of Roku's stick design costs $50. Both sticks include a remote with a microphone for basic voice commands and search and a headphone jack for stealth listening. The remote finally includes power and volume buttons for controlling a TV: The player identifies the TV model when plugged into its HDMI port, says Roku. The new remote can't switch inputs on the set, though, so that old TV clicker still can't go in the drawer.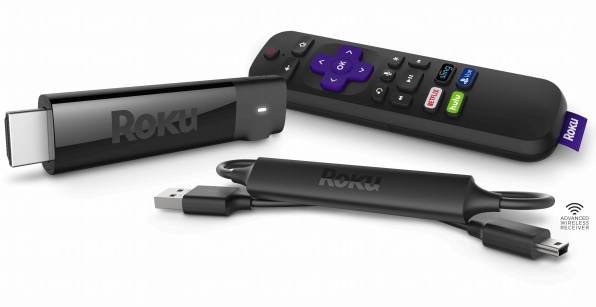 Now that 4K and the top remote are included with the streaming sticks, there's less cause to buy the $100 Roku Ultra box, which provides an Ethernet port and a micro SD slot. It used to boast better Wi-Fi range, but the Stick+ includes a new Wi-Fi receiver built into its USB power cord, promising four times the range for those big 4K streams.