GoPro today unveiled its first consumer-level virtual camera, the all-new Fusion. The action-camera company also announced the Hero6 Black, the latest in its flagship line, as well as new auto-shooting features for its drone.
It's not clear if any of the new devices or features will help the company recapture its financial mojo. But its core user base, as well as people eager for a new camera to use while skiing, biking, surfing, or doing other action sports will no doubt appreciate getting their hands on the new devices.
At an event in San Francisco today, GoPro showed off the Fusion, a camera meant to shoot stabilized immersive 5.2K spherical video that can be viewed as either 360-degree VR content, or as traditional fixed-perspective video.
Previously, GoPro has produced two high-end VR camera rigs: the Odyssey, for Google's Jump VR camera platform, and the Omni bundle. But both of those are geared toward professionals and come with hefty price tags. By comparison, the Fusion is aimed at consumers who want to shoot 360-degree imagery but who don't require the highest quality.
Like other cameras in its class–such as Ricoh's $429 Theta and Samsung's $167 Gear 360–the Fusion features lenses on both sides of its body. It can shoot both 5.2K30 and 3K60 spherical video, and produces 18 megapixel spherical images that can be played back as either VR content or fixed-perspective video, known as Overcapture, that can be selected later from the 360 video through GoPro's main mobile app.
The Fusion also captures 360-degree audio and works with most GoPro-compatible camera mounts.
The camera costs $699, with preorders being taken now. It will ship in November. The Overcapture feature will be available as an update to the GoPro app in early 2018.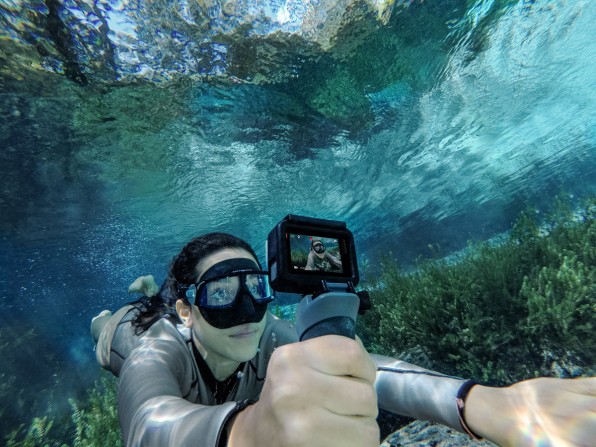 Hero6
GoPro has traditionally upgraded its flagship Hero camera line each September, and the company continues that pattern with the release of the Hero 6, which comes a year after the last major update, the Hero5.
The new Hero6 Black, which features the company's proprietary GP1 processor, shoots both 4K60 and 1080p240 video. It is being marketed as offering the best image stabilization and quality of any camera in GoPro's history, as well as a new level of simplicity that allows users to shoot high-quality photos or videos with a minimum of settings.
Thanks to the GP1 chip, the Hero6 Black shoots twice the video frame rates of the previous generation Hero5 line, as well as better dynamic range, low-light performance, and video stabilization.
The camera also features higher computer vision and machine learning functionality, making it easier than before to generate automated films based on footage from the Hero6. Known as Quickstories, the GoPro app-based tool is meant to automatically and quickly compose the films and transfer them from the camera to the smartphone-based app.
Interestingly, while GoPro did upgrade its flagship Hero line, it didn't announce a new version of its smaller, less expensive Session camera. It's not clear if the company plans on doing so in the future.
The Hero6 is available now and costs $499.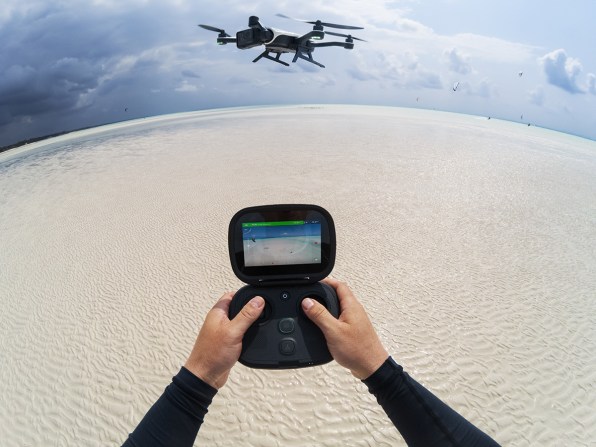 New Drone Features
Although there's little evidence that GoPro's drone, the Karma, has made a significant impact on the market–it, like many others, has likely suffered at the hands of the consumer drone industry dominance of China's DJI–the company is continuing to add new features.
The Karma, which was unveiled along with the Hero5 Black a year ago, got off to a rocky start, having to be recalled shortly after its launch due to power-loss issues. But it has been trouble-free since being relaunched last February. Now, the drone will have two new features–one in which it automatically follows and keeps in-frame the person holding its controller, even if he or she is moving; and the other in which the Karma circles around and keeps in-frame the person holding the controller.
Those two features help the Karma catch up to its closest competitor, DJI's Mavic Pro, which has a range of auto-shooting tools.
The question is whether any of GoPro's new offerings can make much of a difference to the company's financial situation. Previously a Wall Street darling with a stock price that skyrocketed to as high as $93.70 not long after its 2014 IPO, GoPro's stock has been flat at just over $11 a share for most of the last 21 months. Despite the company's commanding position in action cameras, it's unlikely that the launch of the Hero6 or Fusion will change that dynamic all that much.