Apple and Amazon have already built a number of "operating systems" for peoples' lives, and now they're in a race to provide the OS for your home. That means home automation ("Hey, Siri, turn on the lights!), home security ("arm system!"), entertainment ("Alexa, play '70s hits"), and even into the car ("Siri, did I close the garage door?").
That competition was very apparent in Seattle today at Amazon's mega product event, where it announced six new hardware products. Several of the new devices, I couldn't help noticing, included new features that seemed to directly respond to features already seen in Apple products.
Amazon released two new Echo smart speaker devices, and both of them contained improved audio systems for better sounding music playback. This could easily be seen as Amazon's answer to Apple's HomePod, which, like Amazon's Echo, is the vehicle for an intelligent digital assistant (Siri), but is also built for high-end audio playback. Amazon already had a great digital assistant, but it had some work to do to close the audio gap. (The new Echos are already on sale; the HomePod goes on sale in December, in time for the holidays.)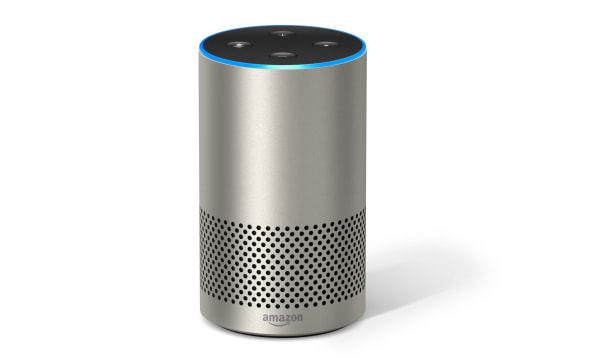 Amazon also seemed to answer Apple's HomeKit framework in some of today's announcements. Most notably, Amazon is trying to simplify the language users need to use to activate connected home appliances. So Alexa now takes into consideration the room the user is standing in when interpreting a command. If the user says "turn on the ceiling fan," Alexa will assume that means the ceiling fan in the room the user is speaking from.
Amazon has also added something called "routines," which can be seen as the company's version of HomeKit's "scenes." Routines, like scenes, let a user order a number pre-scripted actions with a single voice command. So "good morning, Alexa" might unlock the front door, turn on the lights, and make Alexa read the weather report. Apple's "scenes" have been available since the Home app launched in 2016.
On the entertainment front, Amazon brought its $70 Fire TV streaming device back into parity with Apple TV by adding support for Dolby sound and 4K video. "4K" means 4,000 pixels on a single horizontal line across the video image. Amazon says it now offers (through Amazon Video and content partners) the biggest selection of 4K video content anywhere. Apple launched its new $150  Apple TV 4K streaming device at a press event in early September.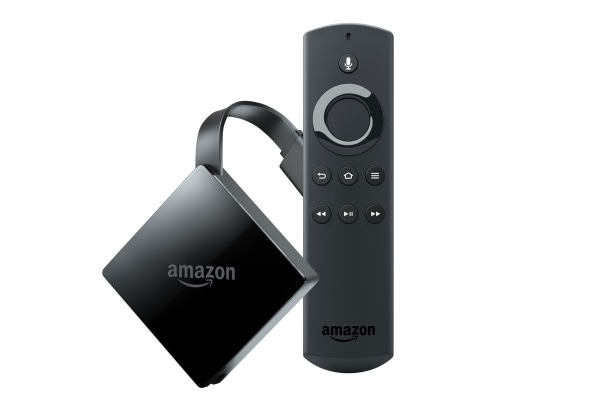 And it cuts both ways. I believe the main reason Apple announced its HomePod smart speaker six months before it would become available for sale is because it felt a lot of pressure to release an Apple-branded alternative to Amazon's Echo. It had become clear to Apple that natural language commands–like those we speak to Alexa–are one of the ways consumers want to talk to their technology.
(Google, of course, is also a player in the smart home wars, with its Home device; competition was on some people's minds when, on Tuesday afternoon, Google blocked Amazon's Echo Show device from accessing YouTube. A Google spokesperson said the Show violates its terms of service and creates "a broken user experience." An Amazon exec said, "it was a surprise to us.")
All About The Holidays
All this jockeying for products and features has a clear deadline. For Amazon, Apple, and every other consumer device maker, the product lineups have to be in place in time for the holiday shopping season. Lots of buying decisions will be made in November and December, typically the biggest time of year for sales.
---
Related: Apple Explains How It's Making Siri Smart Without Endangering User Privacy
---
When it comes to the connected home and the devices that fit into it, consumers aren't making one-off decisions. The decision to buy a product for one part of the home that contains a specific digital assistant may influence the decision to buy this product or that for another part of the house. Many consumers now deal with two or more digital assistants, but the research shows a desire to standardize to only one. If a consumer decides that Assistant X offers the best tech framework for the household, they may begin buying only tech gear that's compatible with Assistant X.
Tech companies used to compete on products and prices. And those things are still important. But, increasingly, consumer buying decisions about certain products–and the real focus of the competition–isn't about the thing itself: It's about the trustworthy digital assistant that controls the thing and an ever-growing constellation of other things and services, finds new ways to make those connected things work better, and personalizes them for the user.