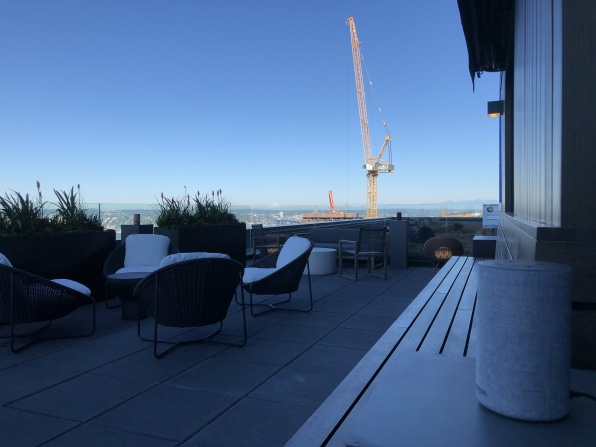 Amazon announced two new Echo smart speakers in Seattle today, and one of the big improvements in the devices, Amazon says, is better audio. Both the $99 "new" Echo and the $149 Echo Plus now have a woofer and a separate tweeter (the original Echo had no tweeter). Amazon quickly learned after the launch of the first Echo that people really like to listen to music on the Echo, the company's Alexa lead, Dave Limp, told me.
So I was excited to hear the new devices playing music. Oddly, Amazon decided to hold the audio demonstration outside, on a balcony on the 27th floor of one of the buildings that makes up its urban headquarters. Usually, if you want to make something sound good you don't submit its sound to the whims of the open air. (Ever heard of an outdoor recording studio?) So it's a little hard to compare the Echos I heard outdoors with other smart speakers I heard indoors.
It was obvious that, in terms of audio, the new Echos are an improvement over the original Echo. The separation of the low and high frequencies between the woofer and the tweeter result in a clearer, better articulated sound. But the bass produced by the 2.5-inch woofers (in either device) are nothing to write home about. It sounded compact and boxy–certainly no competition for the bass produced by Apple's (much more expensive) HomePod device.
An Amazon rep here told me the devices don't work together to produce a wide stereo effect, as the HomePods can do. Rather, each one reproduces the left and right channels of a stereo recording. And when multiple Echos are playing the same music around the house, great care is taken to make sure they're perfectly synced together.
UPDATED 5:30 p.m. PST: Amazon invited me to listen to the new Echo one more time–this time indoors–to get a truer idea of its sound. It sounded much better indoors, as I expected it would. It also sounded significantly better than the original Echo, especially in the high frequencies. However, my earlier impression that the bass sounds compact and bit boxy still stands.