We know the gender wage gap can't be boiled down to a neat cents-on-the-dollar figure. It varies by race, industry, and job role. But a new study from SmartAsset aims to bring a little more clarity: The financial-analytics company analyzed earnings data from the Bureau of Labor Statistics to show which occupations had the largest and smallest gender pay gaps in America.
Among the findings overall, job roles in the male-dominated finance industry presented the largest pay gaps. Female financial advisors make an average of 55% what their male counterparts earn, while loan officers and credit managers don't do much better at 69% of what men get paid.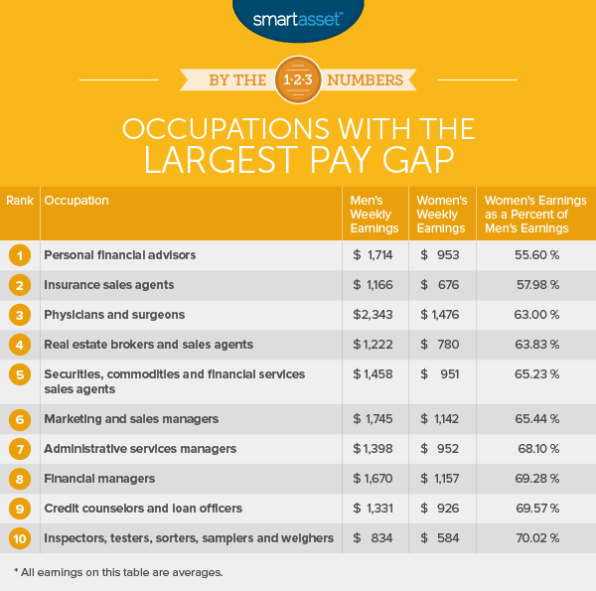 Whether they're selling real estate, insurance, or securities and commodities, women earn less than 65% of what men earn in the same jobs. Male doctors out-earn their female counterparts by nearly as wide a margin at 63%. In professions that pay less, like food prep, the gap narrows to a little less than 5%, while stock clerks and distribution managers have less than a 2% gap in earnings. The only occupation out of the 120 that were analyzed where women earn more than men is counseling.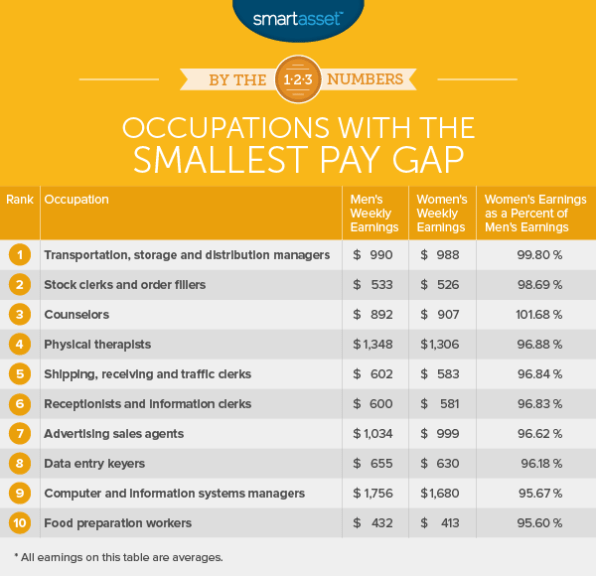 The report comes shortly after a mostly male Congress voted down an equal pay amendment that would have required mid- to large-size businesses to report pay data. It also comes on the heels of a class action lawsuit against Google for systemic pay discrimination. Unfortunately, the current gender wage gap is costing the U.S. economy trillions and spells more of the same as women retire with less saved in the future.