"No, there's nothing wrong with you,"Kushal Chakrabarti, cofounder and CEO of TalentWorks, an AI platform for job seekers, tells job seekers. "It's miserable for everyone. The U.S. economy is adding jobs, but it's still a serious pain in the ass for any single American job seeker to actually get a job," he says. 
In a blog post, Chakrabarti details the average length of time to hire that spans submitting an application, interviewing, and getting an offer for a variety of positions, based on a subsample of TalentWorks data tracking about 3,000 job applications. The results show a bleak picture of the application process, which stretches well past a couple of weeks and sometimes even months. For example, among the most popular jobs on TalentWorks, it takes about three weeks for software developers to go from application to job offer, while it takes in excess of four months for a mechanical engineer to go through the process. The bulk of the time is spent on the interviewing process, which is similar to recent analysis by Glassdoor that focused on that stage of hiring.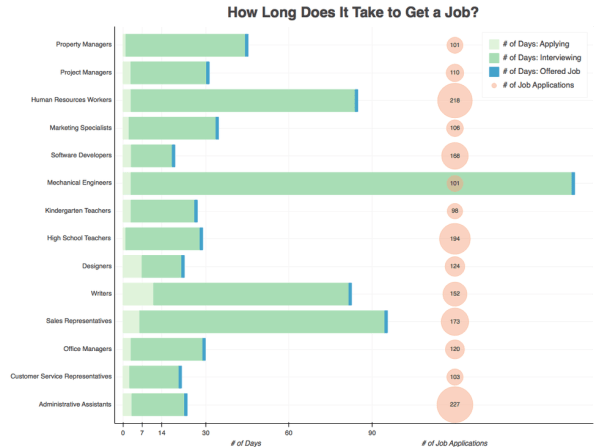 One part of the problem is that you have to submit so many applications before one takes you far enough to land an offer, Chakrabarti explains. The probability of getting a job interview from one application is just 8.3%. But TalentWorks was created to change all that.
Chakrabarti was a software engineer at Amazon who rose to a leadership role, and then left in order to start the nonprofit Vittana. In 2014, the Khosla-backed startup,  which provided students in developing countries with microloans to complete their education, merged with Kiva, and Chakrabarti spent a couple of years traveling and advising other startups.
Yet all the while he was chewing over the fact that a $500 education loan could change a young person's life dramatically in one country, it could barely make a dent in the U.S. for students shouldering college loans averaging in excess of $30,000.  In the U.S., he saw another problem emerge: A large number of college graduates were underemployed and unable to pay back loans.
According to an Accenture study, 51% of 2014-2015 graduates were underemployed–holding jobs that don't require the college degrees they've earned–and that number has risen precipitously over the past 15 years. The Economic Policy Institute (EPI) found similar troubles among millennials whose academic careers terminated with high school diplomas; underemployment among that group stood at 33.7% last year, compared with 26.8% in 2007.
The problem isn't just a millennial one. Chakrabarti also saw an opportunity for mothers who were returning to the workforce and people who were laid off as businesses closed, too.
Chakrabarti began to question whether there was some way to combine best practices for job seeking and matching the right opportunities. "That can be learned by a machine," Chakrabarti muses. "You just need someone who has your back, who gets the job space."
So TalentWorks developed as a hybrid AI and human solution to the quandary. Launched in beta in 2015, TalentWorks amassed "tens of thousands of active users" (Chakrabarti declines to offer a specific number), and emerged from stealth at the end of June.
The way it works is straightforward. Go to the site and click "automate my job search." Then enter your chosen field and your location. It will show you a fair market salary and the number of openings in the area, drawn from an index of job boards serving up about 3 million open positions each month.
TalentWorks' free plan promises to deliver five new job listings that you can confirm or deny. For those you choose, the platform will apply on your behalf with a one-click automation (like Amazon's one-click checkout, but for job applications) for up to 10 jobs. If you want a more full service experience, there are two tiers of service.
One for $5 a week adds in personalized resume optimization. Chakrabarti explains that thanks to the data TalentWorks has already processed, machine learning can optimize a resume on as many as 57 different points. A critical one is the time gap between jobs for caregivers who took time off, or laid-off workers who spent time unemployed, which Charkarbarti says can be handled with a brief explanation so the hiring manager can better understand the circumstances rather than assume the worst.
The $10 per week plan offers the resume optimization as well as a personal "talent advocate," who is an experienced hiring manager in a particular area. Currently, Chakrabarti says there are four full time talent advocates who coach job seekers through mock interviews and are available to answer any questions they might have. The number is small, says Chakrabarti, because the number of job seekers using this tier of the service is still small compared to the others.
But here's the kicker: By taking this premium rate, TalentWorks offers users a full refund if there is no employer response within 60 days. They're not guaranteeing a job–that's on you–but they are at least guaranteeing you'll get in the door.
Which is something that sets TalentWorks apart in a field that's seen rapid growth in the number of startups aimed at facilitating this part of the job search. Jobbio, a startup based in Ireland,  plays matchmaker between job seekers and employers, albeit without the human coach. Jobbio touts the efficacy of its "live Bio" feature that is better at showcasing talent and experience than a static resume because it can be updated more frequently. Jobbio currently claims that 4,200 companies are hiring through the platform, including HubSpot, TransferWise, Airbnb, and Etsy.
"One of the very intentional choices was to build something for the job seeker," maintains Chakrabarti. "Most companies you see are almost entirely focused on the employer." He concedes that's where the money is in terms of investor dollars, "but really the pain for everyday Americans is having to look for a job. It sucks, it's miserable, and unconscious bias is a real thing."
Although TalentWorks isn't building in a way to cloak qualifying information like gender, race, or age like Blendoor, or adding in personality and skills assessments like Talify, Chakrabarti contends that the company's mission, "to help you get the job you deserve," assisted by AI and a very human mentor, is going to boost a company's chance of hiring diverse talent. "Having something like this levels the playing field," he says. "It helps [diverse candidates] regain an edge."