For all the merits of "visualization," when it comes to achieving goals, it only takes you so far. If I want six-pack abs, I'm not going to get it by daydreaming about a stomach of steel. I need to eat right and exercise right. I have to work hard at it.
This is something we tend to forget when it comes to more abstract goals, the stuff you can't actually stand in the mirror and see–like becoming more empathetic. But the fact is that developing empathy takes practice and hard work, too. So here at HubSpot, we've put in place a training regimen to help everyone on our teams flex their empathy muscles. Here's how.
Start By Meeting People Where They Are
When you're trying to lose weight or gain strength, you need to step on the scale and take a baseline measurement. Otherwise, how would you know if you've made progress? So for our employees, we created a quiz that helps them identify where they currently are on the empathy scale. Based on the Toronto Empathy Questionnaire, the quiz assesses individuals on four aspects of theoretical empathy: emotional contagion, emotion comprehension, sympathetic physiological arousal, and con-specific altruism. Depending on their results, employees then receive tailored resources (articles, books, invitations to employee resource group events, etc.) that help them get started on achieving their empathy goals and improve how they relate to others in the workplace.
Encourage Employees To Tell Personal Stories
It's not easy to train one person to be more empathetic, and it's even more difficult to do the same for 2,000 coworkers across seven global offices. As we contemplated empathy building at scale, we decided to host "Humans of HubSpot," a live storytelling show focused on sharing personal anecdotes, which conventional office settings might not always leave room for.
Drawing inspiration from NPR's The Moth, employees share stories about their own lives and identities. This kind of unfettered vulnerability breeds trust between colleagues, and trust is what ultimately drives results. As it turns out, we're not the only one preaching the power of storytelling to build a more empathetic work culture. Our event has already inspired other companies, like Wistia, to start storytelling nights of their own.
---
Related: How Hiding Your True Self At Work Can Hurt Your Career 
---
Ask Your Employees To Do A Lap In Their Colleagues' Shoes
We all carry things with us to work that can't be seen on the surface, but that deeply affect our performance and interactions. In a silent video that's now been viewed more than 3 million times, the Cleveland Clinic challenged patients and practitioners to build connection and exercise empathy, asking viewers, "If you could stand in someone else's shoes . . . hear what they hear. See what they see. Feel what they feel. Would you treat them differently?" At HubSpot, we created a similar video to help employees understand each other's unspoken struggles and joys, so they can focus more on asking questions instead of making assumptions.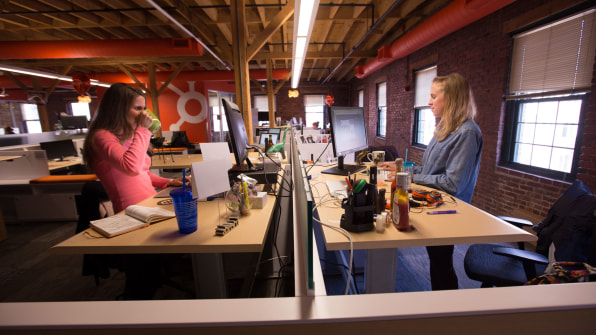 Have Execs Do Other Employee's Jobs For A Day
There's a stereotype that the larger companies grow, the further disconnected leadership becomes from the average employee's day-to-day. Reality TV shows like Undercover Boss have profited from exposing the dissonance this stereotype perpetuates. But instead of organizing a covert operation, we decided that there was real empathy-building value in putting our executive team on the front lines.
For one day, our CEO Brian Halligan did the hardest job at HubSpot–front desk receptionist–learning how to go above and beyond to make customers, employees, candidates, prospects, and visitors feel welcomed and supported. Other C-Suite executives took customer service calls, learned how to prospect, helped conduct UX research focus groups, and manned the IT helpdesk. The execs then shared what they learned on our company's intranet for all employees to see.
Let Your Team Work Remotely For A Week
It's no secret that remote work is on the rise. According to research by Mary Meeker's Internet Trend Reports, a flexible work schedule is the second most-valued benefit by employees. But there's a real risk that remote workers will end up feeling like outsiders compared to their onsite colleagues. So to improve communication and empathy for remote workers, VP of Marketing/Growth Kieran Flanagan recently had his entire team go remote for one week.
---
Related: How These Remote Workers Convinced Their Bosses They Can Work From Anywhere 
---
Employees could work from wherever they wanted, as long as they were not in a HubSpot office. This simple change in location opened the team's eyes to a few new techniques for improving inclusion. For example, making everyone dial into a virtual meeting via their own laptop, regardless of whether they're in the office, or assigning a facilitator to ask remote individuals for their input–and pausing the discussion if it's clear someone is having difficulty getting heard.
Were some of these empathy-boosting activities inconvenient, and occasionally even downright disruptive to day-to-day work? In some cases, sure. But just like any solid workout at the gym, building empathy takes time, effort, and a little discomfort. It's getting too settled in your ways and not challenging yourself that's by far the unhealthier choice.
---
Caroline Cotto is the culture content creator at HubSpot, where she focuses on employer branding, inbound recruiting, and diversity & inclusion, specifically as head of the Women@HubSpot employee resource group.