How prosperous is your neighborhood? The Economic Innovation Group, a nonprofit research and advocacy organization, has released a new report and an interactive tool that tells you how your zip code stacks up to the rest of the country—and illustrates just how geographical economic inequality is growing across the U.S.
The organization's annual Distressed Communities Index finds that more than half of the Americans residing in distressed communities live in the South. More Americans, however, live in prosperous communities (84.8 million) than distressed ones (52.3 million).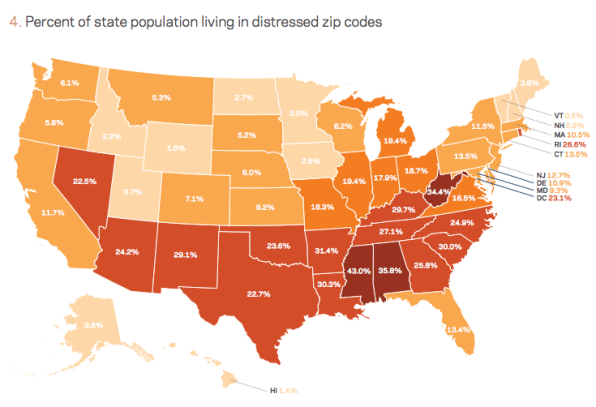 Most pressing, according to the report, is that "distressed communities are quite literally being left behind by the rest of the country." Most of the economic growth over the last five years has been concentrated on the more prosperous parts of the country, with depressed communities seeing much less growth.

Compiled from U.S. Census Bureau data, the report looks at the following criteria: percentage of adults without high school diplomas, poverty rate, percentage of prime-age adults not working, housing vacancy rate, median income ratio, percentage change in employment, and percentage change in establishment. Distressed communities are areas where each of those categories are above the U.S. average.
The EIG's interactive tools show how other locations compare to your neighborhood. You'll get a sense of the magnitude of the country's yawning economic gulf, and perhaps share your frustration with policymakers, whom, the EIG concludes, are the ones who can best help reconnect distressed areas and assist with revitalization. And check out the entire report here.CGW