One medical technology company has a simple but novel way to encourage women to get a mammogram exam: Make it less painful.
Hologic just announced its SmartCurve breast stabilization system, which features a curved compression surface that mirrors the shape of a woman's breast. It's compatible with Hologic's Genius 3D Mammography exam and reportedly does not affect image quality, accuracy, or a technologist's workflow.
According to a recent Kadence Inc. survey of 10,000 women, discomfort was the leading reason for why women avoid a mammogram. During these exams, patients' breasts are painfully compressed in order to thin out the tissue. Hologic circumvents this with a curved surface that reduces pinching and does not squish breasts with such intensity.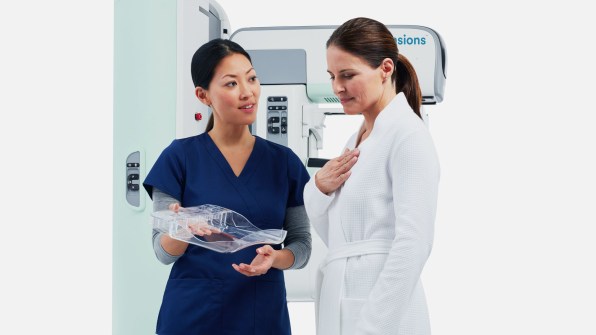 "Comfort during a breast exam is almost entirely driven by how the breast is compressed and how long it's compressed," Tracy Accardi, Hologic's global vice president of research & development, breast health & skeletal imaging, tells Fast Company. "Our time of compression is significantly less than any of our competitors." She adds that the technology's proprietary curved surface lets it "enable a better distribution of force over the entire breast."
This innovation, reports the company, provides a far more pleasant experience: According to their own clinical studies, 93% of women who experienced pain with standard mammography have found the new system "to be more comfortable," and 95% would recommend it to others.
"That's a pretty big deal," says Accardi.
Beyond their test patients, the SmartCurve is also finding support from celebrities. Sheryl Crow, Genius exam spokeswoman, said in a statement: "I've already been telling women that the Genius exam is the best option for their annual screening. Now that it's also a more comfortable exam thanks to the SmartCurve system, I'm urging women everywhere to stop making excuses and ask their doctors about the Genius exam today."
There are more than 4,000 Hologic 3D Mammography systems in use in the United States. The SmartCurve breast stabilization system will be available for immediate order at all locations.