What:  A follow-up to a previous harrowing personal story, as another healthcare crisis looms large once again.
Who: Jimmy Kimmel.
Why we care: Kimmel has not been known for his politics–even in the Trump era. While other major players in late night TV, like Seth Meyers and Stephen Colbert, have become dogged critics of the current Commander in Chief, Kimmel mostly stuck to his broader brand of humor. But then, back in May, things took a turn for the personal.
Kimmel's newborn son was diagnosed with a heart disease and immediately needed surgery. He had a pre-existing condition. Although Kimmel has obtained a level of wealth and clout that enabled him to get the best possible care for his infant child, the experience cranked his empathy into overdrive. The following day he vented with a devastating monologue on his show, urging viewers to do everything they could to save Obamacare. It would have been an unusual move for any of the late-night hosts, but coming from one who is typically apolitical, the clip especially resonated. It made the movement against Repeal and Replace feel more like an all-hands-on-deck situation.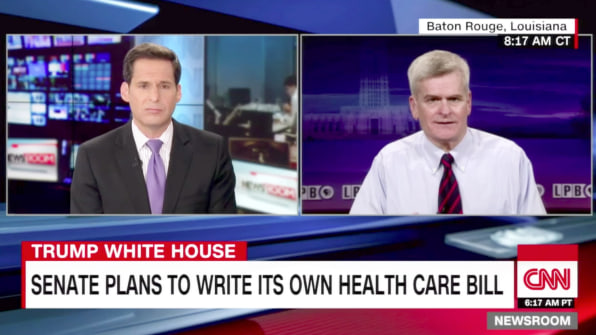 Although those initial efforts against the ACA died a dramatic death in the Senate back in July, they are back in the form of the Cassidy-Graham bill. Jimmy Kimmel is back as well.
Last night, Kimmel opened by recounting the time Louisiana Senator Bill Cassidy appeared on his show in the wake of Kimmel's emotional monologue. Apparently, Cassidy said at the time that any healthcare bill he got behind would have to pass "The Jimmy Kimmel Test": It would have to be a bill that does not deny any family medical care, emergency or otherwise because they can't afford it. Media applauded Cassidy for his compassionate conservatism, and he recounted his "Jimmy Kimmel Test" sound bite on many talking head shows. Now Cassidy has emerged as the co-sponsor of a bill that is gaining traction in the GOP and reneges entirely on his promise. Kimmel is not having it.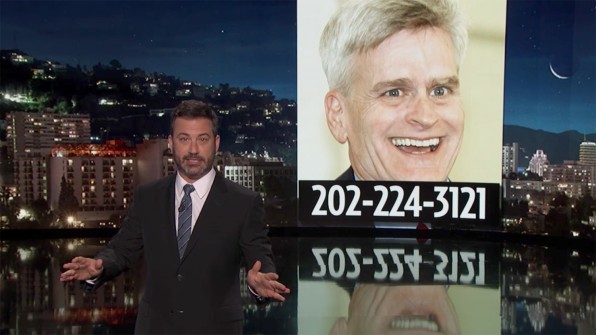 "These guys are counting on you to be so overwhelmed by information that you just trust them to take care of you," Kimmel says. "But they're not taking care of you. They're taking care of people who give them money." The host goes on to praise other countries' healthcare plans and list off some of the many health-related associations that have come out against Graham-Cassidy. It's another surprising soliloquy from late night's least likely activist.