If you use an iPhone, chances are you'll see a notification of a new software update sometime around 10 a.m. Pacific time today.
That's iOS 11, Apple's newest mobile operating system, and there are some good reasons not to ignore the update.
Apple has made improvements to the Notes app, added a new control center, and thrown in a new driving mode. But those aren't even the best parts of the upgrade. The following features are the real meat and potatoes of iOS 11: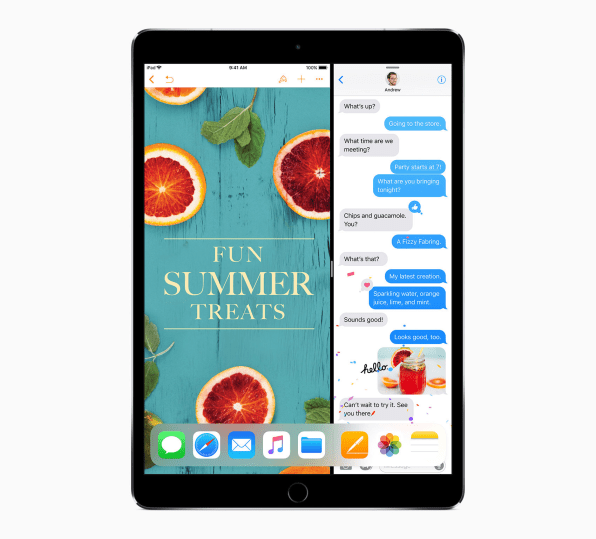 Productivity Powers For iPad
The iPad is beginning to act a lot more like a laptop. Apple wants the device to be a content viewing tool but also a content creation tool. iOS 11 does a lot to move the iPad in that direction. New split-screen multitasking modes have been redesigned and enhanced. A new application dock at the bottom of the interface (which looks a lot like the one in macOS) lets the user easily launch various apps into individual sections of the screen. There's also a lot of dragging and dropping going on in iOS 11 for the iPad. You can drag and drop moving images, text, and files between apps. See our full overview of iOS on the iPad Pro here.
Better File Management
As we've come to do more and more of our business on our mobile devices, file management has become a bigger issue. The iCloud Drive app launched in iOS 9 has morphed into the Files app in iOS 11, and the Files app is a lot better. The app creates a central place to keep your files, wherever they're created or downloaded–on other Apple devices, in iCloud, or even in third-party storage services like Box or Dropbox. This could be a major productivity boost if it works smoothly, especially for iPad users. CNet has a nice overview of the Files app and its navigation and file management tricks.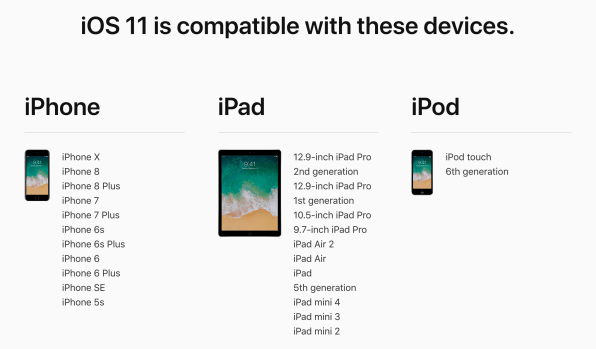 Siri, Humanized
Apple has done a massive amount of voice sampling and machine learning to make Siri sound more human. The assistant is better at nailing the little inflections and nuances in the language. Apple is very concerned about the way Siri sounds because it wants you to feel comfortable using the assistant in more and more places across its devices and services.
Perhaps the biggest improvement to Siri in iOS 11 is that it can now collect your usage and preference data to inform the kind of assists it gives throughout the day. For instance, the new Siri watch face on the Apple Watch might give you a notification that it's time to leave for the flight that it learned about from scanning an email on your laptop. It'll also watch what news you're reading and what web pages you're visiting to understand what content to suggest to you. Apple emphasizes that this all happens using machine learning on the device, and it never sees your personal data.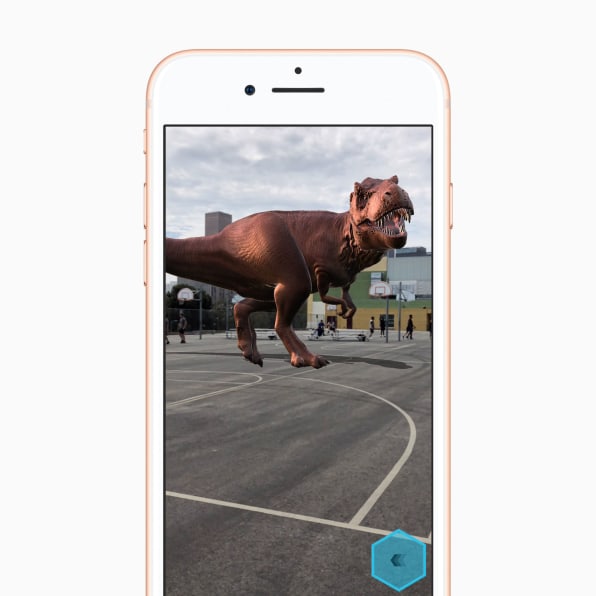 Setting The Table For AR
Apple added the new ARKit augmented reality framework to iOS 11, and released a software development kit to developers in the spring. While it's still a little early yet, we'll start to see new apps and games emerge from those developers and from Apple that exploit augmented reality. In phones and tablets ARKit will help create a real-world environment (seen through the phone's camera) into which all kinds of digital imagery can be placed. ARKit lets the phone or tablet map the space in front of the camera, and uses motion sensors in the device to track your movement in the space.
More AI In Photos App
Apple says iOS 11 will use a new compression standard called HEVC that can store high-resolution images and videos using half the storage space as older image files. The Memories feature, which uses AI to form custom presentations of photos and videos, can more quickly scan your photo library to identify things like events and people, Apple says.
And you can now edit your Live Photos, which capture a few seconds of movement around the shutter snap, creating something like a video snippet. Apple says it now uses computer vision to loop Live Photos. Or, you can look at each frame of the Live Photo and pick out the best still image.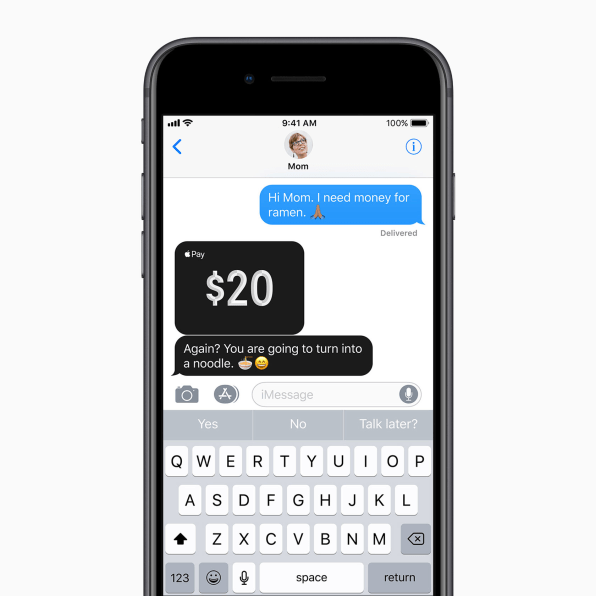 Person-to-person Payments
Apple Pay in iOS 11 supports Venmo-style person-to-person payments. You can pay someone, or get paid, within Messages–no need to launch a special app. You can also tell Siri to send a payment using the credit or debit cards you already have set up in your Wallet. When you get paid, Apple says, you receive the money in a new Apple Pay Cash card in Apple Wallet and you can use the money instantly. The payments feature will not be available right away. Apple apparently still has some setting up to do, but will activate the new feature in an OS update later this fall.
Apple has also added lots of little changes to iOS 11 that could be helpful. For instance, screenshots and screen motion are easier to grab and share, your phone can now detect when you're driving and shut off texts and notifications, Maps will warn you of upcoming turns faster, you can now type Siri requests (instead of speaking them), Control Center is easier to customize, and it's easier to free up storage space if you need it.
When you see the notification of a new OS update on your phone, it's probably a good idea to upgrade if you can do without your phone for a few minutes. The upgrade can be delivered while your phone is connected to the computer, or via a Wi-fi connection. Just remember to back up your data before you install the new OS. (MacRumors has a nice guide to getting your mobile device ready.)