Because nonprofits are so dependent on these wealthy donors for their continued operation, it might behoove them to know what they're thinking. A recent report about the values and giving practices of high and ultra-high net worth adults–people with at least $1 million in liquid financial assets–by U.S. Trust, Bank of America's private wealth management group, provides some answers.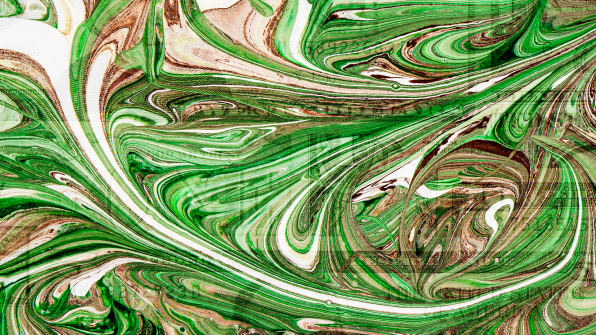 A separate analysis found that business owners–compared to, say, traditional executives or those who've inherited wealth–already see themselves as providing a socially good service because they've created jobs and are contributing to the economy. (In fact, 73% of these owners see businesses, not philanthropy, as the most effective engine for increasing America's prosperity; the estimated power of startups and small companies is larger than the might of large corporate or global operations.) Therein lies some unique opportunity to spur different kinds of generous action.
The report is based on a survey of 808 high and ultra high (with more than $100 million) net worth individuals who also have at least $3 million in investable assets. The results show that business owners are far more likely to leverage their cash in a way that creates more jobs or opportunities for others, potentially by investing in "positive impact" companies, compared to non-business owners who appear more geared toward making direct contributions or volunteering.  (For job creation, that rate is 43% versus 7%; for positive impact investing it's 31% to 15%, respectively. When it comes to the likelihood of contributing and volunteering, that flip-flops to 46% versus 78% when considering contributing to charity, and 45% to 58% in regards to volunteering.)
Here's how that visually breaks down: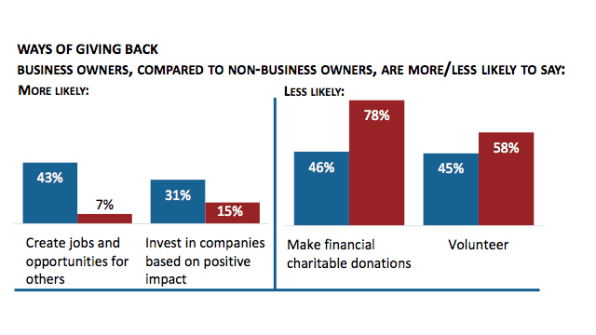 Either way, as the chart above shows, groups looking to grow the involvement of new allies would do well to target millennials first, then Gen-Xers, followed by Boomers. The youngest generation appears poised to make "giving back" part of their family life and sees impact investing—which doesn't always yield the highest rate of return—as a way to make money in the process.

In particular, 9 of 10 high-net-worth business owners say greater collaboration between private, public, and nonprofit worlds would drive more economic growth. Which means anyone with a fledgling social enterprise, say, a buy-one, give-one business model, or company that's hiring a workforce that can simultaneously lift up and be comprised of some needy population might want to consider looking for existing cash-flush owners that aren't necessarily already within this sector as potential investors.
Or approach an extremely rich millennial: As the chart below shows, regardless of occupation that's the set most likely to invest in a socially good venture. (high-net-worth millennials, as a whole, are also most likely to invest in impact-based companies and those that yield more jobs.)

Conversely, discounting what exactly they do for a living, U.S. Trust's analysis shows that Boomers are most likely to engage in those classic acts of charity like making a donation or volunteering. Here's a visual that shows the percentage of each age set participating in those acts.
The other way for nonprofits to profit from an alliance with a wealthy business owner is to tap her or his brain: "seven in 10 business owners support nonprofit organizations and causes by working for, on behalf of or serving on the board," notes one U.S. Trust finding. In fact, 92% of those who had held ownership positions served on at least one charitable board, with two-thirds serving on two or more (about a quarter even served on six or more). The primary reason wasn't to make connections, but rather to a commitment to the missions those groups represent.
Here, too, it may make sense to seek millennial counsel. Millennials now represent 35% of high net worth business owners, with the other two generations both accounting for slightly less overall. By all accounts, there's a historic transfer of wealth happening right now. The charitable influence of that generation, regardless of occupation, is poised to grow.