When Apple announced the LTE-equipped Apple Watch Series 3 during its press event last week, the company didn't mention an extra bit of sticker shock: Beyond the $399 device price, cellular connectivity will cost $10 per month on U.S. carriers. (If your plan isn't unlimited, data will come out of the same allotment as your phone.)
That's the same price most carriers charge to add an iPad or another LTE-equipped tablet to an existing wireless plan. But while an iPad is designed for all-day use, with data consumption on par with phones and computers, the Apple Watch's cellular functions should be used sparingly. No one's going to stream Netflix videos on a smartwatch, and according to Apple, a cellular phone call will drain the Watch's battery in an hour–versus three hours for calls that route through an iPhone. Charging $10 per month seems out of line with that level of use.
Surely the cost won't deter some people from buying the LTE Apple Watch anyway. One report even claims that the cellular version of the Apple Watch 3 has accounted for more than 80% of preorders. But by putting such a stiff price on Apple Watch data use, wireless carriers are restricting connectivity at a time when they should be enabling more of it.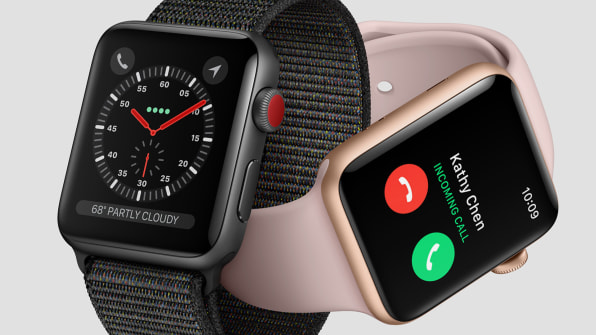 Better Bundles
Wireless carriers have smothered non-smartphone devices through stiff monthly service plans in the past. The 3G version of Sony's PlayStation Vita gaming handheld, for instance, required a minimum $10 per month data plan on AT&T when it launched in 2012, and it was so unpopular that Sony discontinued the option a year later. AT&T also charged $10 per month to connect Samsung's first cellular-connected camera, which then became Samsung's last cellular-connected camera.
Even cellular tablets remain a luxury rather than the norm, in part due to the mandatory $10-and-up pricing that most carriers charge. Last year, 21% of tablets that shipped in the United States had cellular connections, according to IDC, and it's safe to assume only a subset of those devices are connected to an active wireless plan.
Macario Namie, who heads internet of things strategy for Cisco's Jasper unit, says wireless carriers may not see this as a problem. Even with low adoption, individual plans can still provide a big boost to carriers' bottom lines. (Jasper, which Cisco acquired last year, manages cellular connectivity for small-scale devices, including the data plan that's built into some Amazon Kindle e-readers.)
"If you're a telecommunications provider, you've largely saturated your market [for smartphones]," Namie says. "Anytime they can increment the number of connections by a single percentage point, or five percentage points, it's pretty significant, especially in very large markets like the U.S."
But by approaching these connections piecemeal, carriers are missing a bigger opportunity to connect the next wave of computing devices. To that end, it's not hard to imagine more creative approaches than charging $10 per month, per device.
On a basic level, carriers could bundle multiple Apple Watches together, so that a family of four wouldn't have to pay an extra $40 per month to stay connected. They could also tie service together for Apple products, so that users would have more incentive to connect both an iPad and an Apple Watch.
Apple could also pay for the data itself and build the costs into the price of the watch, similar to what Amazon has done for its cellular Kindle e-readers for nearly a decade. While Amazon offsets those costs through e-book sales, Apple could rein in its own data costs through subscription services such as Apple Music (which is getting a brand-new app in WatchOS 4).
Even better, carriers could offer broader connectivity packages for all kinds of non-phone devices. Just as carriers now sell unlimited data for smartphones, they could offer an "unlimited device" bundle that covers smartwatches, portable game consoles, luggage trackers, smart headphones, and in-car hotspots. Such a plan would breathe new life into devices that were previously impractical to pay for on their own, and whatever carrier offered it would become indispensable.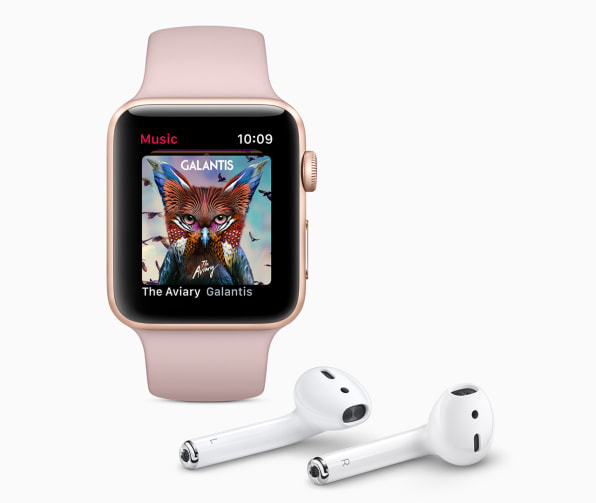 A Learning Experience
Cisco's Macario Namie says the barriers to these types of pricing models aren't technological. If carriers wanted to mix and match data plans in new ways, they could.
"They can do some pretty interesting things," Namie says. "They just have to find ones that make sense for that particular segment."
Namie posits that the Apple Watch gives carriers a bigger chance to experiment. Although the major carriers have offered connected smartwatches before, including Samsung's Gear S3 LTE and LG's Watch Urbane 2nd Edition, those likely sold in small volumes. The Apple Watch is already a successful product, so the cellular version might help carriers figure out what people are willing to pay for.
"Over time, what we see is that they'll learn, they'll make adjustments, they'll put out new pricing models and new bundles," Namie says. "They'll maybe rescind others that aren't faring as well, once they have a better idea of the particular use cases and the dynamics of this particular segment."
Some learning may already be underway. Last Friday, MacRumors noticed that T-Mobile would be throttling Apple Watch data speeds to 512 kilobits per second. Subscribers who wanted full 4G LTE speeds would have to pay double, bringing the price to $20 per month.
Later that evening, T-Mobile CEO John Legere responded on Twitter, saying the carrier would offer full 4G LTE speeds for $10 per month after all.
"Thanks for your feedback," Legere wrote. "We always listen & act!"
Hopefully that's not the last of it.