A Pakistani-American team from Rutgers University has won this year's $1 million Hult Prize, a high profile, global contest for student social entrepreneurs.
The company, called Roshni Rides, is developing a rickshaw-based shuttle network for refugees camps, hoping to spread economic opportunity to groups disenfranchised by their location and a lack of other transport options.
In its fifth year, the Hult Prize is the most lucrative contest of its kind. It attracts entrants from hundreds of university teams who compete in a series of regional rounds (no European, Asian, or Middle Eastern teams made it through this time). Six finalists pitched presentations at the United Nations complex in New York on September 16, having honed their projects during an eight-week accelerator program over the summer. President Bill Clinton, looking rested after last year's election campaign, was on hand to announce the winner and give away a blue and silver trophy.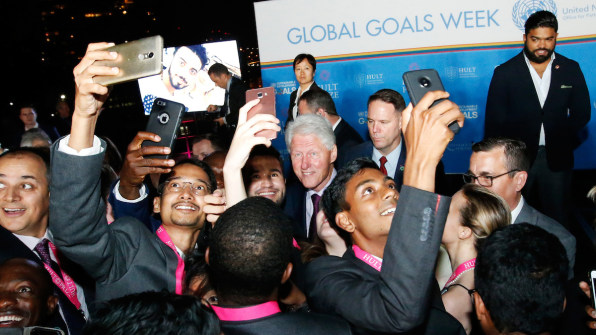 "When we went to Pakistan this summer, it really struck us that these people are isolated in their settlements and they can't move. We tried to think about how we can get them places they need to go," Hasan Usmani, one of four Roshni Rides team-members said soon after the winner was announced.
This year's competition was dedicated to helping refugees. Up to 1 billion people worldwide are now displaced from their homes, estimates show. That includes both forced migrants from countries like Syria as well as long-term refugees, like Palestinians living in Jordan.
The Rutgers team plans to move to Karachi, where each member has family. It will work with refugees in Orangi Town, a long-time slum housing up to 2.5 million refugees from across the region. Roshni Rides wants to recruit under-employed rickshaw drivers to service fixed routes–for instance, between Orangi and nearby schools, clinics, and businesses. It cuts the cost of conventional rickshaw journeys by filling vehicles with more than one passenger and employing drivers on its own terms. The rickshaws effectively become minibuses, serving designated A to B lines.
Roshni Rides is aimed particularly at women who feel uncomfortable sharing crowded buses with men and who can't afford to hire rides in their own rickshaws. "It's mind-blowing that a few people, who really tried to understand the problem, could begin to solve it in a simple way. It shows that you have to be willing to put the investment and time down to make these things happen," Usmani says.
Roshni originally planned to develop solar-powered rickshaws, but it later switched to conventional natural-gas-powered vehicles. The latter requires less new infrastructure, including dedicated charging points, and less specialist maintenance. It's roughly half the cost, the team says.
"The solar aspect is amazing and something we want to do later, but it doesn't immediately answer the concerns of the people," Usmani continues. "We know that it's only a matter of time before the Pakistani infrastructure reaches a level where we can make the investment in solar. It's just that now we can't build it all ourselves."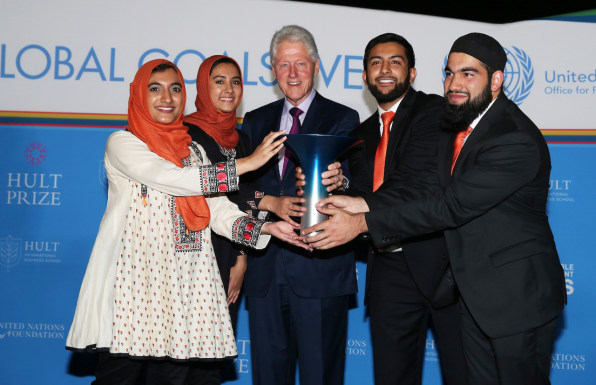 Roshni plans to use the $1 million to do more market research, to recruit drivers and to set up a base of operations. It estimates that each ride will cost about 76 U.S cents, and that it can begin to break even within a year-and-a-half.
The other finalist-teams came from the University of Waterloo, the University of Calgary, York University (all from Canada), Harvard, and ITAM, from Mexico. The runner-up projects include an offline web browser for education, entertainment and other content; a sanitation network that turns human waste into fertilizer and bio-gas; a web-to-text platform helping informal laborers to find construction work; a skills exchange linking refugees with corporate volunteers; and a freelance system enabling refugees to do online digital work.
Previous winners of the Hult Prize have gone on to build viable businesses. Aspire Food Group, the 2013 winner, is farming insect protein and recently completed its second manufacturing facility—a highly automated cricket factory in Austin, Texas. BuuPass, a ticketing marketplace that won in 2016, recently secured a contract to be an official supplier for Kenya's Standard Gauge Railway (it already does ticketing for buses).
After many months developing their projects, this year's losing teams were naturally disappointed. But in the glow of presidential celebrity and in the august surroundings of the UN complex, that disappointment didn't seem so terrible. Several teams said they would continue with their projects despite not winning the $1 million prize.
Dignify, the team from Harvard, has already secured a $50,000 grant from the Tent Foundation for its freelance work platform. It plans to match up refugees with digital jobs, including training algorithms for driverless cars and transcribing license plates photographed at toll booths. The project is like Samasource, a well-known San Francisco-based social enterprise with 10 "delivery centers" in Haiti, India, Kenya, Uganda and elsewhere (although Dignify's workers are self-contractors, not full-time employees).
"It's not just about the money," Laura Oller, Dignify's team leader, told Fast Company. "We're proposing a new way to respond to the refugee crisis. Instead of giving refugees handouts, we want to give them jobs. We want to see they are not isolated in their host countries and connected to the global economy."