After 15 seasons, 59 Daytime Emmy Awards, and around 62 millions hours of TV, people still can't seem to get enough of Ellen DeGeneres and her long-running talk show. Knowing her influence beyond TV, DeGeneres has been savvy in growing her digital presence, most notably launching the Ellen Digital Network last year in partnership with Warner Bros. TV Group.
Ellen Digital Network rolls up her digital content in one platform, including her website Ellentube, YouTube page, social media, and her mobile game "Heads Up!", in addition to a programming slate includes content from YouTube star Tyler Oakley, the guys behind the viral "damn, Daniel" video, and the animated series Ellen's Pet Dish.
And now the latest addition toDeGeneres' growing digital empire is Ellen's Show Me More Show, a new series in partnership with YouTube that's essentially an extension of her talk show, with celebrities and audience members engaging in games, gags, and more in roughly 20-minute episodes. But if the premise of Ellen's Show Me More Show hits on the same notes as The Ellen DeGeneres Show, what's the point? DeGeneres already has more than 20 million subscribers on her YouTube channel alone, where segments and clips from her show have generated nearly 10 billion views–so why another series? Let DeGeneres tell it and it's a very strategic move toward "world domination." In an email interview, DeGeneres gave me her rationale for more content and how to keep it feeling fresh.
Fast Company: How does Ellen's Show Me More Show fit into the overall strategy for Ellen Digital Network?
Ellen DeGeneres: Obviously the overall strategy is world domination. But I only have an hour every day to do it. So now with our digital network we have the chance to make exclusive content for our YouTube viewers. Hopefully, eventually, there will be enough so that you can watch me 24 hours a day. I'll be like the Wolf Blitzer of YouTube.
FC: In what way will Ellen's Show Me More Show be different than The Ellen DeGeneres Show and not just a lateral move?
ED: What you see on TV is just one side of what we do. The Show Me More show gives you the full picture, the front, the side, the booty. And let me tell you, my show's got a nice booty.
FC: What concerns do you have of possibly spreading your brand too thin?
ED: For some people maybe they can be spread too thin that they won't know what's happening or lose focus, but I'm so locked in on every part of this. From the content to the platform to the consistency of the message. It's all focus, focus, focus, every second of every–I'm sorry what was the question?
FC: How do you keep all your pranks, games, and everything else fresh, especially now that you're essentially extending your show into Ellen's Show Me More Show?
ED: How do I keep it fresh? Jean Naté of course. But our process is the same we use when we're making content for the talk show. Every person here, no matter what they do, has an opportunity to bring ideas to the table. We've always made more than we can put into one hour of TV. And this gives us more ways to get our ideas out into the world.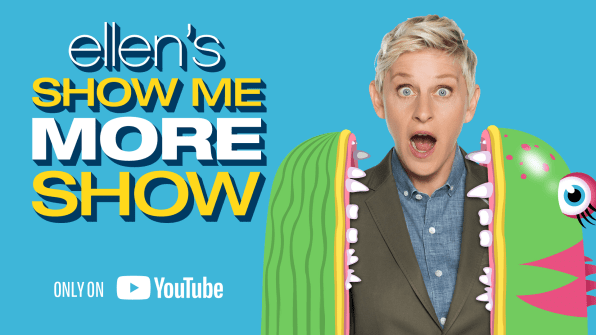 FC: The market for celebrity-driven interview shenanigans has certainly become more dense with other talk show hosts on-air and on YouTube. While you've been a leader in this area for quite some time, how will Ellen's Show Me More Show cut through what's already out there and reach its audience?
ED: I don't think about what the other shows are doing. Except The Bachelor–I spend way too much time thinking about that. But when I'm doing games or interviews, I always just think about what I would enjoy watching and do that.
FC: How have you seen this particular area of celebrity interviewing evolve?
ED: What's most important to me is that my show is a place where people can feel good about themselves–if it's my guests or the people watching, or me. I started my show after I lost everything by coming out. So I approached it with a lot of honesty, and I think my guests respond to that by also being honest. And then I scare the bejeezus out of them.
Ellen's Show Me More Show airs every Tuesday and Thursday at 10 am PST on her YouTube channel, starting September 19.