When Superstorm Sandy hit New York in 2012, it left millions of people without power and destroyed thousands of homes. The storm also battered Brooklyn's Prospect Park with tropical-storm-force winds, damaging or felling more than 500 trees. Some of the trees that still stand predate the park, which opened to the public in 1867, making Prospect Park home to the last remaining hardwood forest in the borough.
Half a decade later, that forest is fast on its way to recovery–and most of the credit goes to teams of goats who've been tasked with restoring the park's fragile ecosystem.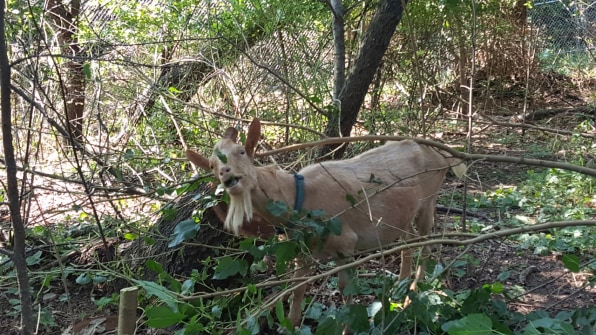 When trees fall, invasive weeds (including English ivy and Japanese honeysuckle) grow quickly and suffocate native flora, hindering restoration efforts. They also prevent migrant songbirds from nesting in the forest, a popular stop along the Atlantic flyway for more than 200 species.
"We didn't want to use chemicals," Prospect Park Alliance vice president Christian Zimmerman tells Fast Company, during a visit to the park. "And if we tried to clear the undergrowth manually, it would have been very difficult and way more expensive," said Zimmerman. "So we said, well, why don't we try goats?"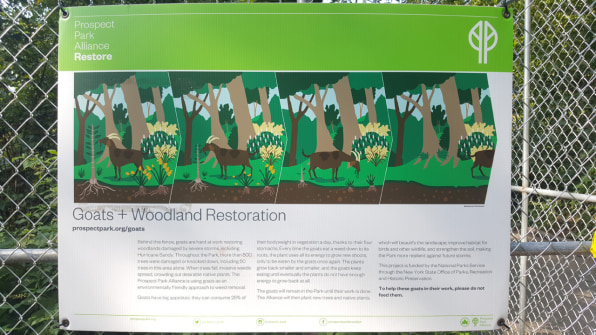 That's exactly what they did, using funds from a National Park Service grant. The first team of goats, provided by Green Goats farm in Rhinebeck, New York, was introduced to the park last summer. A black pygmy goat named Max and three toggenburgs–Cinnamon, Swirl, and Unicorn–took full advantage of the all-you-can eat buffet in northeast corner of the park.
Able to eat a quarter of their body weight each day, these goats stuff their four stomachs with 25 pounds of weeds in a shift. At the ground level, the invasive underbrush gets trimmed to its roots. The weeds eventually grow back, though slightly smaller, only to be eaten again. Eventually, they're unable to grow new shoots and die. In recently cleared spaces, like the Vale of Cashmere, the Alliance is planting native tree and shrub species (black oak, dogwood, spicebush, and American holly) to restore the woodland and its wildlife populations.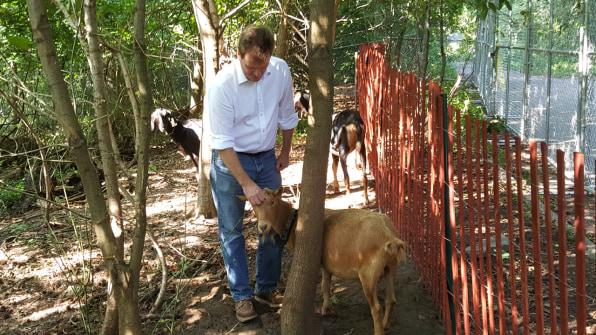 The Alliance welcomed a new goat crew to the park this summer–a Nigerian dwarf named Lily Belle; an aptly named Alpine, Swiss Cheese; and Nubian brothers Eyebrows and Horatio. This tribe has been munching through the tangle along one of the highest points in the park, Lookout Hill, which saw 80 trees damaged or destroyed during Superstorm Sandy.
Now this section of the park is a living laboratory. In the fall of 2016, when Max and Co. were running the show, USFS research scientist Richard Hallett worked with Alliance staff to conduct a baseline assessment of the property.
"Everybody says how great goats are," Zimmerman says. "But it's all anecdotal. So, what's been great here is that we've partnered with the U.S. Forest Service to study them–we're doing scientific research so we can, at the end of the day, quantify their impact. Mary Keehbauch, who's the crew chief here, has been recording and analyzing our findings, comparing 'goat' plots with those cleared by staff."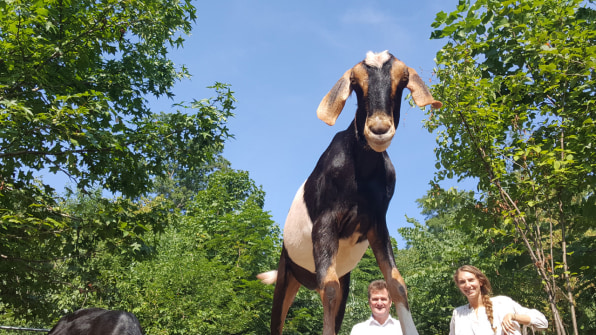 In partnership with the Prospect Park Alliance and the U.S. Forest Service, the director of the New York Invasive Species Research Institute at Cornell University, Carrie Brown-Lima, is replicating the methodology upstate: the same model, but different plant material, and more data points.
About half of the park's 526 acres is forested, including its interior woodlands and perimeter forests, so there's plenty of work left to do. The coming report will help inform the way forward.
"We've also been working with the Natural Areas Conservancy, a not-for-profit that's dealing with all the natural areas in New York City," says Zimmerman. "One of the things that they've been looking at is adjusting the plant community–what do we plant, how do we plant it–for climate change. Because it is happening."
"In fact, every project that we work on now is looking at storm impact and, often, stormwater management. That's the reality."
On my way out of the park, with storm resilience and restoration in mind, I asked Zimmerman if there were plans to bring additional animal help to Brooklyn, be it pigs to rut up soil or sheep to mow grassy lawns, as they once did in the park.
"No, only in my head. There's no funding source for that," he says. "We took advantage–advantage isn't the right word–but we took advantage of a disaster. I don't want another disaster like that."
Of course, climate change is making 1,000-year floods like the one seen in Houston (and Sierra Leone, and Mumbai, and elsewhere) more common, and it's only a matter of time before the next big storm hits New York.
For now, the adorable teams goats in Prospect Park are a nice novelty, but as storms increase in both frequency and strength, they're going to have their work cut out for them. With the park on the U.S. Natural Register of Historic Places, the challenge is bigger than safeguarding a few trees–it's about preserving this country's natural history.