When a hospital needs to rush a delivery from a lab somewhere else in a densely populated city–for example, when a surgeon needs an urgent biopsy of a tumor in the middle of a surgery to determine how much tissue to remove, or a gunshot victim in the ER needs blood that the hospital doesn't have in stock–that delivery can sometimes get stuck in traffic. Couriers are also expensive. In Switzerland, hospitals and labs will soon begin using drones to make those deliveries instead.
Permanent drone delivery networks are already in use in Africa, where drones send units of blood for transfusions to remote clinics in Rwanda, and will soon deliver other medical supplies such as antimalarial drugs and emergency vaccines in Tanzania. But Switzerland will be the first country in the developed world to have permanent drone networks, with drones flying through urban airspace near busy international airports.
Matternet, a Silicon Valley-based tech company, designed the drones, along with a cloud system for sending and receiving platforms–and a newly launched system that can autonomously load, launch, and land the drones. "It allows us to have our drone system connecting facilities that don't have any trained personnel on how to use the drone," says Andreas Raptopoulos, founder and CEO of Matternet.
By the end of the year, the company will have small networks in place at labs and hospitals throughout Swiss cities. When a lab technician takes a sample that needs to be sent urgently, they'll use an iPhone app to put a request in the system, and put the sample in a special container for biohazardous material. Then they'll scan a QR code to load the container into the ground station outside, and then the system does the rest: pulling the sample inside, requesting a drone if one isn't already on site, loading the drone with a freshly charged battery and the sample, and launching on a route generated by the cloud system. When the drone lands itself on another station at a hospital, someone inside is notified and retrieves the sample using the same app. When not in use, the drones will be stored in a secure room at a hospital.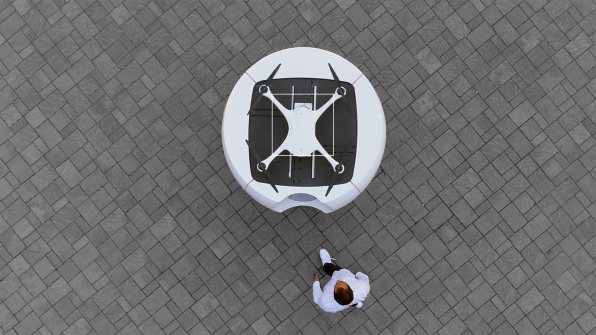 The networks will roll out in partnership with Swiss Post, Switzerland's national postal service, which will help operate the system. For Matternet, healthcare logistics was a natural starting point: Hospitals care about speed more than cost, and current transportation is very expensive. "It made sense to us to try and find a pain point that was significant, in a market that would value the solution and be able to pay for the solution," says Raptopoulos.
By using drones instead of on-demand ground transportation, a hospital can save 20% to 50%, while Matternet still makes a profit. "The economics of that industry are allowing a technology that's in its infancy–when you have the highest cost–to still be cost-effective for the customer," he says.
The system could also save lives; in tests, the company found that a trip that takes 25 minutes by car or van (depending on traffic) could take roughly three minutes in a drone.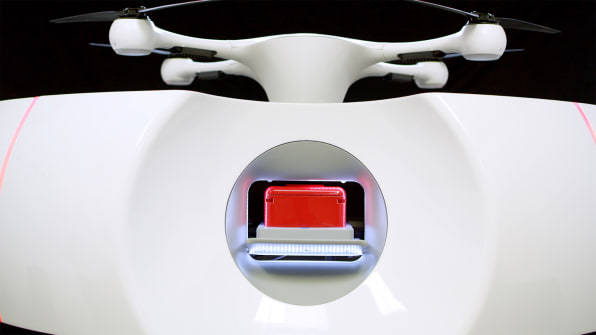 A focus on a clear need in healthcare, rather than beginning with package or food delivery, also helped get support for the system. Air traffic authorities, local government, police, and the military all needed to approve the networks. Matternet also needed to prove, of course, that the drones can operate safely in crowded cities and avoid the risk of collision with other aircraft, such as emergency helicopters at hospitals. An integrated sense-and-avoid system prevents crashes. While the drones operate autonomously, operators monitor their flight from a remote station, ready to make an emergency landing or send a technician if needed. In March 2017, Matternet became the first company to be authorized to operate drone logistics networks in Switzerland.
Once the value of medical deliveries is proven, the company thinks that will serve as a bridge into other on-demand deliveries. "We share the enthusiasm of Amazon and Google and others that it has a potential to revolutionize on-demand e-commerce and on-demand transactions around goods," says Raptopoulos. "The best way to start operating . . . is to start in places where first of all there's a clear benefit, the margins are such that they can pay for this, and the economics work out for the customer, and you can easily make the argument that there's public benefit behind it."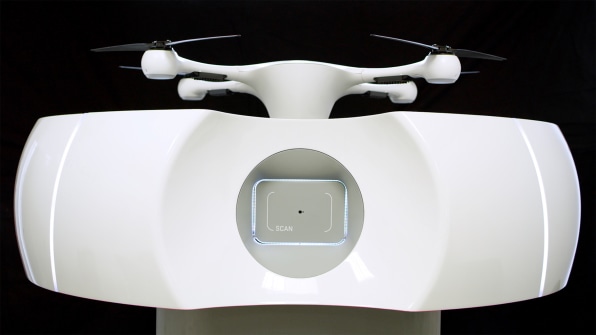 Small e-commerce delivery networks, he says, could launch very soon. The technology is ready, though infrastructure–and public acceptance–may need to catch up. Raptopoulos believes that the first retail deliveries are likely to happen at nearby businesses (you may pick up an order at your corner grocery store, for example) rather than drones flying directly to homes, in part because current drone technology makes a somewhat annoying buzzing sound, and because of privacy concerns. "Public perception is a very strong factor in how quickly something like this becomes mainstream," he says. Drones could also land directly on delivery vans.
As the technology evolves, the cost will come down, and the company also plans to scale up the work that it does in the developing world. Matternet's roots are in medical deliveries in remote regions.
"We have a strong commercial focus currently in the developed world–we believe strong commercial markets will give us the ability to scale and reach the compelling economics we need to reach in order for this leapfrog to happen in the developing world," says Raptopoulos. "Our model is bottom-up: We want to develop technology that is robust and affordable enough for it to be bought by an entrepreneur in Kenya to operate."